Did you know August is National Black Business Month? It is a time to recognize black-owned businesses across the country and to highlight their important roles in our community, as well as to the national economy.
**Scroll down for a list of our readers' favorite Black-owned businesses in the South Birmingham area**
Black Business Month Founders John William Templeton, a historian, and Frederick E. Jordan Sr., a civil engineer, started the national holiday back in 2004 "to drive the policy agenda affecting the 2.6 million African American businesses."
You can simply support National Black Business Month by spending money intentionally. Shop at Black-owned businesses in our community. Post on social media to spread the word about Black-owned businesses. Support causes that support Black entrepreneurs. Make it a habit to intentionally support Black businesses past Aug. 31.
Black business owners account for about 10 percent of U.S. businesses and about 30 percent of all minority-owned businesses, totaling approximately two million companies owned by African Americans, according to the U.S. Census Bureau. But a recent report from the National Bureau of Economic Research showed that number has fallen dramatically since COVID-19, with 41 percent of Black-owned businesses shuttering their businesses because of the pandemic and its fallout, as compared to 22 percent of businesses overall.
Groupon and the National Black Chamber of Commerce recently teamed up for a study of 400 Black business owners and released this graphic with some of their findings: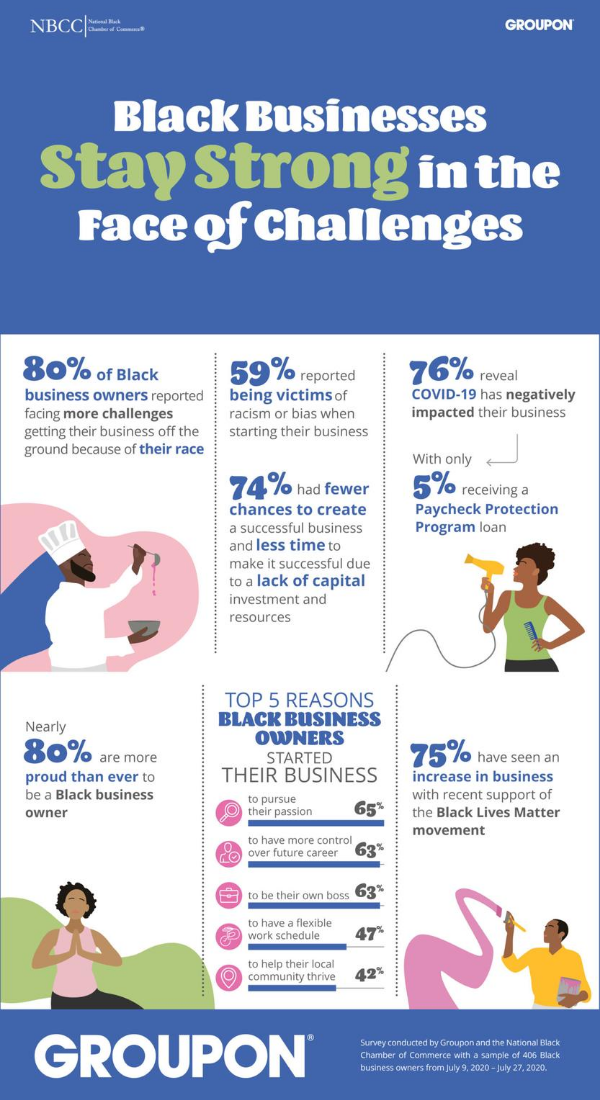 The majority of Black-owned businesses are in the service industry, according to the U.S. Census Bureau: health care, social assistance, personal, and laundry services, as well as other categories including arts and culture, advertising firms, auto dealerships, consulting services, restaurants, barbershops, beauty salons, and many, many more.
Cynthia Yapp is the publisher of Macaroni Kid SW Miami - Kendall, Fla.
Readers' Favorite South Birmingham Area Black-owned Businesses
**Bookmark this page and check back often for additions as we build this list - is your favorite business missing? Please message us on Facebook or email jesssearcy@macaronikid.com**
Angela King Brows and Beauty (Birmingham)
Bama Health Foods (Bessemer)
Bedazzle Me More (Alabaster)
BHM Cleaning Company (Birmingham)
Brown Sugar Desserts by Renea' (Helena)
CakEffect (Hoover)
Corey Hartman Dermatology (Birmingham)
Cornerstone Tree Service (Alabaster)
Creations Galore and Moore (Calera)
Encore Rouge (Birmingham)
The Esthetic Loft (Homewood)
Eugene's Hot Chicken (Birmingham)
Frou Frou Boutique (Alabaster)
Jackson's Bait Shop (Bessemer)
Jake's Soul Food Cafe (Hoover)
Ishi? Clothing Boutique (Hoover, Homewood and Mountain Brook)
K&J's Elegant Pastries (Alabaster)
Michael's Restaurant (Birmingham)
Michelle's Chocolate Laboratory
Naughty But Nice Kettle Corn Company (Birmingham)
NOLA Ice (Birmingham)
The Perfect Note (Hoover)
Post Office Pies (Birmingham)
Roadside BBQ (Birmingham)
Refined to Go (Helena)
See Jane Write (Birmingham)
Suga Babies Shack (Birmingham)
Tee's Cakes and Pastries (Chelsea)
Underground Vegan (Hoover)
Valia Rose Events (Homewood)
Yo Mama's Restaurant (Birmingham)
For even more Black-owned, locally-owned business listings, visit the business directory on BirminghamBlack.com
----------------------
Macaroni Kid South Birmingham is a free weekly e-newsletter and website focused on fun family events and things to do with kids in the South Birmingham region. We gather together all kinds of local family events and activities each week, and add useful information about classes, family-focused businesses, book and product reviews, recipes, crafts, school and camp guides and more. We proudly serve families in downtown Birmingham, Mountain Brook, Homewood, Vestavia Hills, Hoover, Pelham, the Oak Mountain and 280 area, Helena and Alabaster.