A few years ago I hosted a bridal shower for a dear friend of mine. Six friends living in six different states made it difficult to get together in person, so we did something a little out of the box. We celebrated the bride-to-be with a virtual party! We connected, laughed, played silly games, and made unforgettable memories much like you would at a typical party, yet we were all comfortably settled in our own homes thousands of miles apart.
So I'm here to tell you that hosting a virtual birthday party, baby shower, graduation party, or another special occasion can be really fun -- whether you're time zones apart or just down the street, but separated by stay-at-home orders.
Here are 10 unique party themes to help you plan a special, virtual get-together during the coronavirus crisis:
Work of Art
Theme: Come as you are! Get ready for artsy fun with a few pieces of blank paper and drawing utensils.
Activity: Choose a drawing tutorial video from Art for Kids Hub and have all the guests draw together.
Clowning Around
Theme: Wear crazy wigs or fancy clothes.
Activity: Do a makeup tutorial together!
Masked Karaoke
Theme: Wear a fun mask.
Activity: Sing karaoke together.
Day at the Derby
Theme: Wear a fun hat.
Activity: Host a horse race. Set a timer and then race to collect items around your own house that start with letters that spell out the word H-O-R-S-E.
Ready, Set, Action!
Theme: Set the stage of your special event by selecting a play script.
Activity: Assign characters to each attendee, dress up in costumes, and have each person read their lines while acting out the scene. For more than 600 FREE kid-friendly play scripts, we recommend Kidsinco Online Scholar Source.
Pajama & Movie Night
Theme: Wear your PJs.
Activity: Stream a movie or show to watch together. Netflix Party can help you do just that!
Spa Day
Theme: Plan ahead. Prior to your event, set your hair in soft curlers.
Activity: Make and apply your own face masks. A quick DIY recipe: 1/2 banana + 1/2 avocado + 2 Tbsp. plain yogurt. While the mask sets, play a round or two of "20 Questions." Once dry, rinse your mask and drop your curls!
Prince or Princess
Theme: Wear a royal crown.
Activity: Have guests each assemble their own macaroni necklace or jelly bean bracelet. Make sure to put it on and twirl for your friends to show off your creation.
Tropical Paradise
Theme: Wear your best Hawaiian shirt or a lei. Don't have a floral lei? You can make one yourself.
Activity: Play a classic game like Pictionary or Hangman by sharing your screen and using a drawing app like Paint, Photoshop, or Zoom Whiteboard.
Game On!
Theme: Assign a color to each guest to wear as their team color.
Activity 1: Play Cookie Face, a game made popular by the hit TV show, "Minute to Win It." Set a timer for one minute and see which team can get a cookie from their forehead into their mouth faster without using their hands.
Activity 2: Have each guest print out the ABC Categories game sheet below. Pick four random letters and assign one to each list. Set a timer for up to 3 minutes for each round, and have players write down items that fit within each category. Give points to participants for each unique answer.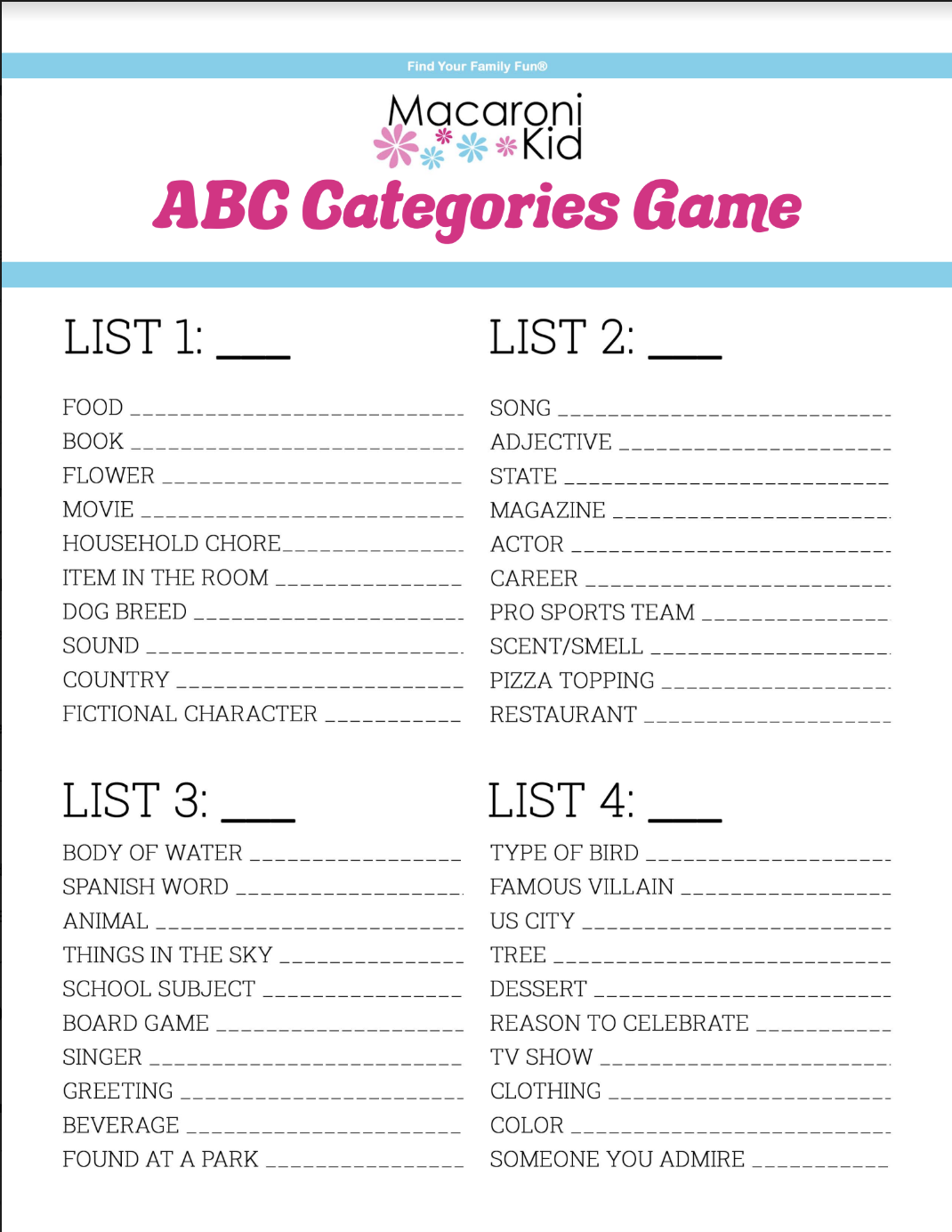 Sarah Hauge is the publisher of Macaroni Kid Englewood, Greenwood Village, Centennial, Colo.
----------------------
Macaroni Kid South Birmingham is a free weekly e-newsletter and website focused on fun family events and things to do with kids in the South Birmingham region. We gather together all kinds of local family events and activities each week, and add useful information about classes, family-focused businesses, book and product reviews, recipes, crafts, school and camp guides and more. We proudly serve families in downtown Birmingham, Mountain Brook, Homewood, Vestavia Hills, Hoover, Pelham, the Oak Mountain and 280 area, Helena and Alabaster.