There's no trick to making this Halloween treat. Monster apple bites is an ingenious yet simple recipe that your little monsters are sure to love preparing with you -- and eating too!
There are only six ingredients and no baking is needed!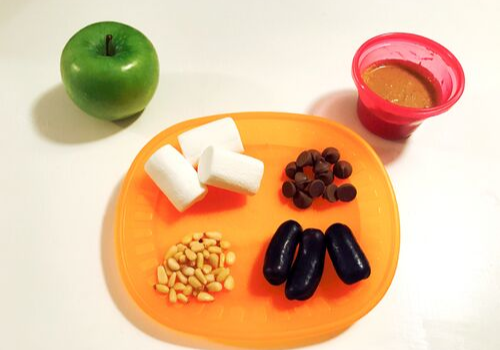 Ingredients:
A green apple
Creamy peanut butter
Marshmallows
Purple grapes (I used moondrops, which are longer than regular grapes)
Chocolate drops
Pine nuts
Instructions:
Cut the apple in half and then cut the halves in half again to make quarters.
Cut a wedge out of each quarter to create the mouth on the skin side.
Fill the gap/mouth with peanut butter spread.
Place the pine nuts on top of the mouth for the teeth.
Slice the grapes lengthwise and place one slice at the bottom of the mouth for the tongue.
Slice the marshmallows for the eyes and stick one or two pieces above the mouth with some peanut butter.
Add a chocolate drop at the center of each eye.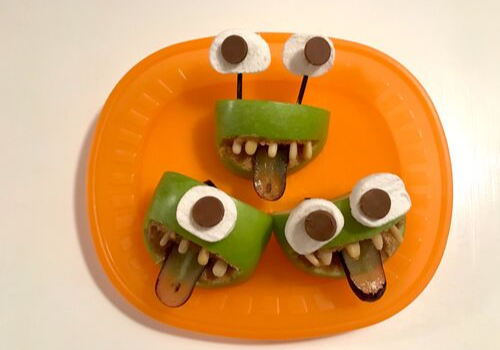 Boo-tiful! Now your monstrous treat is ready to eat!
Francesca Walker is the publisher of Macaroni Kid Miami North East-Miami Beach, Fla.
----------------------
Macaroni Kid South Birmingham is a free weekly e-newsletter and website focused on fun family events and things to do with kids in the South Birmingham region. We gather together all kinds of local family events and activities each week, and add useful information about classes, family-focused businesses, book and product reviews, recipes, crafts, school and camp guides and more. We proudly serve families in downtown Birmingham, Mountain Brook, Homewood, Vestavia Hills, Hoover, Pelham, the Oak Mountain and 280 area, Helena and Alabaster.