I am starting to decorate for fall and bunting is one of my favorite do-it-yourself home decorations to make. Bunting is so easy to make and lasts all fall because it is not Halloween or Thanksgiving specific. It is also incredibly inexpensive and the supplies are simple. You can make this bunting project in under an hour with just a few items!
Bunting materials:
35 strips of fabric (About 1 yard of fabric total) 1/4 X 12 inches
5 1/2 feet of string (or length needed for the space)
scissors
measuring tape
Bunting directions:
Find three to seven pieces of fabric that look good together. Use at least three colors. I used seven. I would use an odd number of fabrics because odd numbers are more aesthetically pleasing. You want colors that will blend into each other and not have one color that stands out.
Cut the fabric into 35 strips total that are 1 1/4 inches-by-12 inches.
Cut a piece of string to fit your space.
Take the strips of fabric and tie them onto the string, alternating colors until they are all on. Then space them out so they are close together in even increments.
Hang on a bookshelf, mirror, or anywhere you are looking for a little extra fall decor!
That's it! Bunting really is so simple and it's a fun way to add a little fall color to your home without spending a lot of time or money. Happy fall!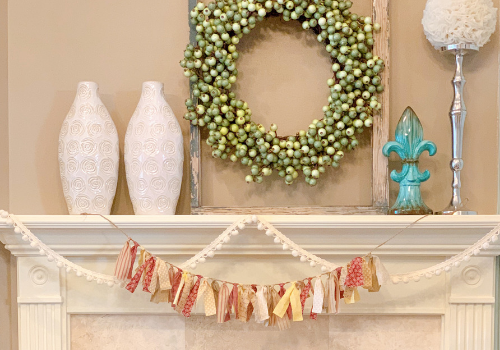 Gwendolyn Dattage is the publisher of Macaroni Kid St. George, Utah.
----------------------
Macaroni Kid South Birmingham is a free weekly e-newsletter and website focused on fun family events and things to do with kids in the South Birmingham region. We gather together all kinds of local family events and activities each week, and add useful information about classes, family-focused businesses, book and product reviews, recipes, crafts, school and camp guides and more. We proudly serve families in downtown Birmingham, Mountain Brook, Homewood, Vestavia Hills, Hoover, Pelham, the Oak Mountain and 280 area, Helena and Alabaster.