Happy, healthy and confident - those are the three basic goals I consistently say I want for our children and I am not alone. Recently I was introduced to a shoe company, Super Heroic, which was created with the goal to remind children everywhere that there is a superhero inside each of us, and embracing that can make for more active, healthy and confident kids. The folks over at Super Heroic have made the importance of play their main focus and are providing kids, ages 4 and up, with footwear designed specifically for how kids play and move. Their TMBLR line of shoes have important elements built into the design - from the extra space kid-sized feet need for balance, to the durable sidewalls, and heel bumper and the slip-on (no tie!) style which allows your superhero to go on mission after mission in comfort and confidence!
I was given the opportunity to try out a pair of the all-new TMBLR v2.0 Nickelodeon Glitch shoes and see how they held up on the feet of an active city kid in Chicago. Before I get into the review I need to let you all know that we are hard on our shoes. We don't have a car so our feet carry us a lot of miles around town, so even before we got to the playground to try these new kicks out on running and climbing they logged a few miles running errands with me. If a shoe can't handle the wear and tear of city living then they won't get a favorable review, that is for certain!
SPOILER ALERT:
the
TMBLR v2.0 Nickelodeon Glitch
shoes allowed my kid to keep pace with me to the store, the library, the park and the walk home without so much as a whine or grumble
I went online to purchase a pair of TMBLR v2.0 Nickelodeon Glitch shoes for my 7-year-old but wasn't exactly sure of the proper size for him. We all know shoes the same size can run in various degrees of fit and my ever-growing son was between two sizes. Luckily with the help of their online chat function, I was able to determine the exact size needed. The day the shoes arrived and we saw the bright yellow label warning us that these were for "Playground Use Only" (and not sitting and playing on a screen) we couldn't wait to open the box and see what was inside!
| | |
| --- | --- |
| | |
As you can see the packaging is FUN! As you are opening the shoebox you hear sounds - reminiscent of a video game or cartoon featuring your favorite hero. My son went straight for the Phase Five comic book which was included and his little sister went straight for the sound-activation tab - until she discovered the cape! We wore the shoes a few times on short excursions - to the grocery store, walking the dog around the block, but nothing really strenuous until it was the dreaded "errand day" last Thursday.
These shoes were then tested out by train platforms, city streets, grass, soft playground surface, playground equipment, dirt and sand (and even a few ice cream drips which were easy to wipe off). About halfway through, and at the end of, our five-hour adventure, I asked my son, "How do your feet feel?" and he quickly responded with a thumbs up and said that they were feeling good. No blisters or sore spots that can be common with new shoes before breaking them in quite a bit.
It is clear that Super Heroic shoes are a great fit for adventurous city kids and now is a great time to stock up for back-to-school!
PROS
The no-tie slip-on style allows for independence with ease
Great online customer assistance to find the right fit and the reassurance of hassle-free returns
Soft uppers with a fixed TPU strap for comfort and a secure fit
Fun Slime-inspired color scheme and pattern (my kid loves Nickelodeon slime!)
Reinforced in all the right spots: toe, heel, and sidewalls - which are the areas prone to kid-induced wear and tear
Packaging that even excited the kid in me! You know you are opening something special when you get these shoes - from the moment you see the "For Playground Use Only" sticker on the side of the box you know it's going to be fun!
TIPS
Our first attempt to put the shoes on was met with a little frustration. The upper was getting tucked in between the shoe and the top of the foot BUT that was easily overcome with a few tries and realizing that holding the loop on top helps to keep it from folding in on you.
If you only buy one pair yet have more than one child, be prepared to have a lesson about sharing: My son loved the sound-activated box and Phase Five comic book included in the box, but the cape has been claimed by his little sister.
* I received a pair of shoes from the Super Heroic company for the purposes of this review, but all opinions in this article are my own.
You can find more info about Super Heroic and their mission at:
CLICK HERE to enter now for a chance to win a pair of TMBLR v2.0 Nickelodeon Glitch!
With a new school year just around the corner, there's no better time to enter this contest and gear up with Super Heroic sneakers.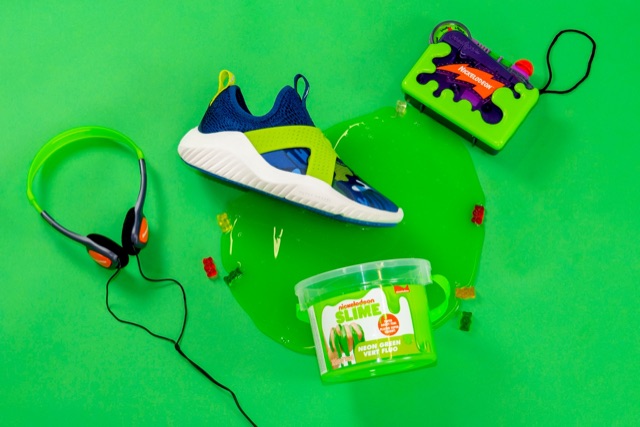 *No purchase necessary to enter or win. You must be 18 years or older and a US resident. Entries accepted until Friday, August 9, 2019, at 11:59pm EST. Click here for complete rules.
----------------------
Macaroni Kid South Birmingham is a free weekly e-newsletter and website focused on fun family events and things to do with kids in the South Birmingham region. We gather together all kinds of local family events and activities each week, and add useful information about classes, family-focused businesses, book and product reviews, recipes, crafts, school and camp guides and more. We proudly serve families in downtown Birmingham, Mountain Brook, Homewood, Vestavia Hills, Hoover, Pelham, the Oak Mountain and 280 area, Helena and Alabaster.