MaidPro, a leading residential cleaning franchise, is happy to announce that five of our franchisees have received the Best of HomeAdvisor Award for 2019. This prestigious award is given to top-rated professionals that exemplify quality practices and premier services.
BOSTON (PRWEB)JUNE 20, 2019
MaidPro recipients of the 2019 HomeAdvisor Award are: MaidPro of Birmingham in Alabama; MaidPro Saint Johns and MaidPro of Tampa in Florida; MaidPro Clarksville in Tennessee; and MaidPro of the Triangle in Raleigh, North Carolina.
"We're very proud of our franchisees who've been recognized by HomeAdvisor for the quality and service of their work, and their outstanding dedication to the customers that they serve in their communities and surrounding areas," said MaidPro co-founder and CEO Mark Kushinsky.
All winners of the HomeAdvisor Award for 2019 had to meet strict criteria for eligibility. This included having an average customer rating of 4.0 or higher, with at least three reviews from the last six months. Recipients also had to be in good standing for the six months prior to the date the award was designated and approved and active for match 75% of the time over the last six months with no problem resolutions.
To receive a free quote or sign-up for service visit: maidpro.com/estimate.
ABOUT MAIDPRO
MaidPro is a Boston-based franchisor of house cleaning services with over 275 locations in 38 states, the District of Columbia, and Canada. The company, which began franchising in 1997, takes pride in its strong owner community, cutting-edge technology, and creative marketing. It has been honored with the Franchise Business Review's Four-Star Rating and Franchise 50 awards every year from 2006 to 2019 for owner satisfaction. Forbes has named MaidPro a Top Franchise to Own in 2015, 2016, and 2018. MaidPro was named one of the Top 50 Franchises for Minorities by USA Today's Franchising Today. MaidPro is also a proud member of the International Franchise Association, Canadian Franchise Association, and the New England Franchise Association. The company can be found online at http://www.maidprofranchise.com.
Editor's Note: We at Macaroni Kid South Birmingham would like to congratulate MaidPro of Birmingham for winning this award! Honestly, we're not surprised. Our family has utilized their services for over a year now and they do a great job every time. We would also like to thank them for choosing to support Macaroni Kid South Birmingham as one of the ways they give back to their local community. Thank you MaidPro of Birmingham! We hope you will remember them next time you need cleaning services, and please tell them we sent you!
Proud major site sponsor of Macaroni Kid South Birmingham!
Get a FREE fridge clean and $75 OFF when you schedule your first cleanings with MaidPro of Birmingham. Call 205-358-1800 for your free quote today!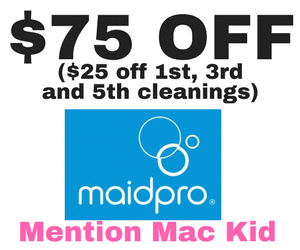 ----------------------
Macaroni Kid South Birmingham is a free weekly e-newsletter and website focused on fun family events and things to do with kids in the South Birmingham region. We gather together all kinds of local family events and activities each week, and add useful information about classes, family-focused businesses, book and product reviews, recipes, crafts, school and camp guides and more. We proudly serve families in downtown Birmingham, Mountain Brook, Homewood, Vestavia Hills, Hoover, Pelham, the Oak Mountain and 280 area, Helena and Alabaster.