Perhaps you made a resolution to keep you home cleaner in the New Year. A big first step on your road to success is to stock up with all the right solutions and tools to address virtually any cleaning need. Here's a PRO checklist:
THE BASICS
For daily and weekly cleaning, start with a roomy, lightweight caddy and fill with:
Gloves.
All-purpose spray and glass cleaner that is pH-balanced and capable of disinfecting (or at least sanitizing) surfaces.
Floor cleaner that's also a pH-balanced solution, billed as 'safe for any finished floor surface,' including wood; use also for baseboards and spot-cleaning walls.
A lint-free cloth for buffing streaks from mirrors and other glass surfaces.
Multicolored, nonabrasive cleaning pads (in lieu of sponges). NOTE: PROs use color-coding (green for kitchen, blue for bathroom, etc.) to avoid cross-contamination risks.
Toilet bowl cleaner and dedicated brush. If using a single bowl brush across multiple bathrooms, select a design that properly contains the brush to prevent cross-contamination with other tools you may be carrying from room to room.
High-quality microfiber cloths and/or an extendable microfiber duster. NOTE: PROs also prefer microfiber mop-head covers, which can be washed and reused many times, making them both economical and environmentally sustainable.
Absorbent, waffle-weave towels for wiping/drying.
Nylon-bristle brushes in a range of sizes for gently scrubbing and going into awkward nooks and crannies.
A lint roller is an essential if you have fur babies in the house!
It goes without saying that a high-quality vacuum with a range of useful attachments is also a must for keeping your home consistently clean (we'll cover key vacuum-selection factors in a future post this year).
SPECIALTY/INFREQUENT CLEANING
When you clean your home regularly (or have a PRO do it), you can usually get away with using only the basics listed above, as more complex cleaning problems such as soap scums, mildews, and molds never have a chance to develop. For tougher and less frequent cleaning tasks, you may also choose to stock:
A mildly abrasive cleaner. At least temporarily as you establish a more regular cleaning habit.
Lime scale remover. A must if you live in an area with high mineral-content (hard) water.
Soap-scum remover offers just the right chemistry to dissolve chemical bonds formed between common elements found in soaps and minerals such as calcium and magnesium found in hard water.
Mold/mildew remover—or chlorine bleach as an alternative—to kill and contain these living, multiplying organisms.
Wood soap. When wood is properly sealed—as virtually all contemporary wood floors, cabinets, and furniture items are—you might choose a specialty wood soap, but it's also fine to use mild, all-purpose cleaners; polish is rarely (if ever) needed (except where severe etching is causing dullness). For untreated or antique woods, see this post for how to best maintain.
Goo remover. especially if you've got sticker-loving kids or family members into glue-using crafts and hobbies, a good goo remover paired with a razor or plastic scraper can be your best friend.
Baking soda is not just for baking and deodorizing; baking soda is a hero for cleaning ovens, cooktops, and burnt pots and pans and also a key player in emergency stain treatment (see below).
Squeegee is a must-have tool if you wash your own windows, but useful also for cleaning mirrors and even floors.
STAIN KIT
For stain-treating dos, don'ts, and specific stain-fighting procedures, check this post (more general) and this one (for kid-related stains). In stocking your emergency stain kit, be sure keep on hand:
A degreasing dishwashing liquid
Acetone (nail-polish remover)
Ammonia
Chlorine bleach (strong bleaching action)
Hydrogen peroxide (milder bleaching action)
An oxidizing agent
Baking soda
Corn starch
White vinegar
Rubbing alcohol
Glycerin
A nonflammable dry-cleaning solution
BRING IN THE PROS!
When hiring a PRO service to clean your home, understand that the best companies—such as MaidPro—will always bring in their own supplies versus presenting you with a list of things to buy. You can be sure PRO solutions are thoroughly vetted and tested, and that cleaning PROs are well trained in how to use their supplies both safely and effectively. What's more, you can free up a ton of storage space by not stocking your own supplies!
$75 OFF ($25 off your 1st, 3rd and 5th cleanings) and a FREE fridge clean when you mention Macaroni Kid at the time of booking for your first scheduled cleanings from MaidPro of Birmingham. Call (205) 358-1800 for an over the phone quote today!
Proud major site sponsor of Macaroni Kid South Birmingham!
Get a FREE fridge clean and $75 OFF when you schedule your first cleanings with MaidPro of Birmingham. Call 205-358-1800 for your free quote today!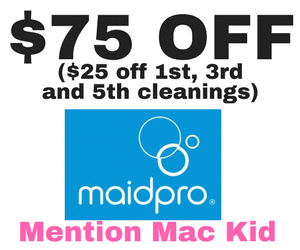 ----------------------
Macaroni Kid South Birmingham is a free weekly e-newsletter and website focused on fun family events and things to do with kids in the South Birmingham region. We gather together all kinds of local family events and activities each week, and add useful information about classes, family-focused businesses, book and product reviews, recipes, crafts, school and camp guides and more. We proudly serve families in downtown Birmingham, Mountain Brook, Homewood, Vestavia Hills, Hoover, Pelham, the Oak Mountain and 280 area, Helena and Alabaster.