Our two boys experienced every little boys' dream come true when they they were picked up for school in Alabaster Fire Department's newest yellow engine number 11 by two fire fighters and a lieutenant! How in the world did they get this opportunity? Well, I wanted to share it with you in hopes this amazing opportunity will continue for other kids in our area!
It all starts with the Angel Warriors Foundation (AWF) and the dream of founder Jamia Williams to create more opportunities for families with special needs children to have fun and participate in various activities. Based in Alabaster, the non-profit organization's primary purpose is to organize events and activities for special needs kids and their families in the South Birmingham area. Some types of events include sensory friendly movies, dinners, egg hunts, Santa meet and greets, sports, camps and more.
A Night for the Angels Gala is one of AWF's fundraising events that occurs in early spring. Macaroni Kid South Birmingham was honored to be invited to be a media sponsor for this event. At this event every year is a silent auction, with hundreds of donated items from businesses and individuals throughout the area. But we thought the very coolest item donated was the firetruck ride to school from the Alabaster Fire Department. We KNEW that it would be something our kids would remember for a lifetime! So imagine my elation when we bid on the item and won! I hope that the fire department will continue to donate this amazing experience, helping raise awareness and funding for Angel Warriors Foundation!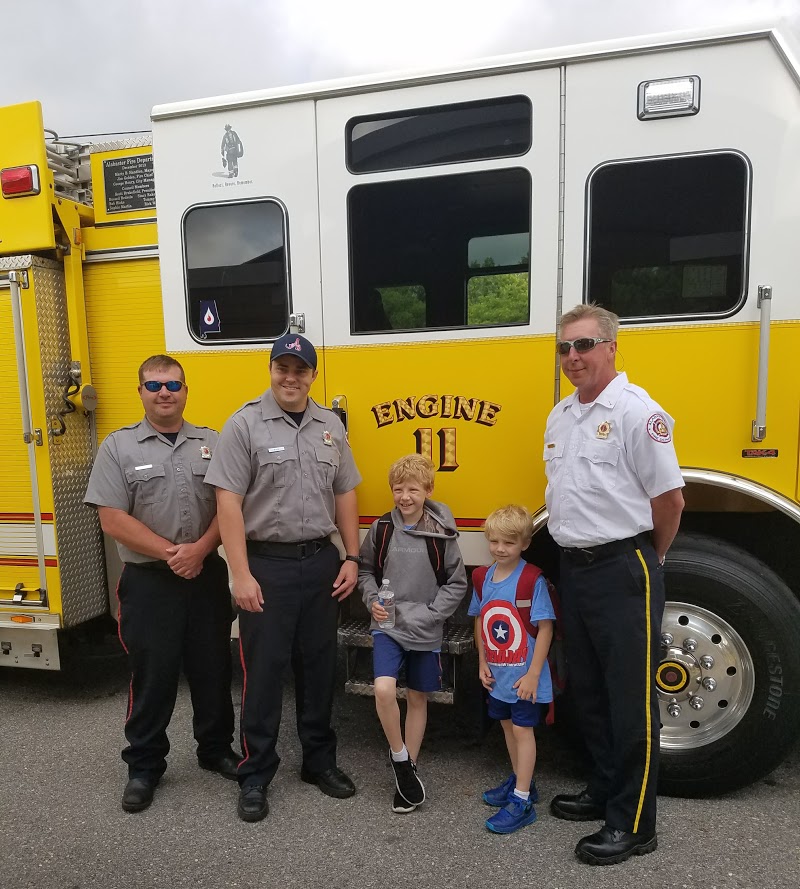 Evan (left) and Cole pose for a picture with their heroes for the day (from left to right): Fire Fighter Wesley Lash, Fire Fighter Hunter Wade and Lieutenant Thomas Lamb.
To make the experience even more special, Captain Benson called our school principal and arranged for Evan and Cole's classmates to be outside waiting for their arrival. I hurried ahead of the truck to capture the kids reaction when they saw the firetruck come around the corner. It was priceless. The kids loved getting to see the truck up close, meet the firefighters and have their picture taken in front of the truck!
Evan playing it "cool," arriving at school on the firetruck. Hard not to feel like a rock star with that kind of entrance!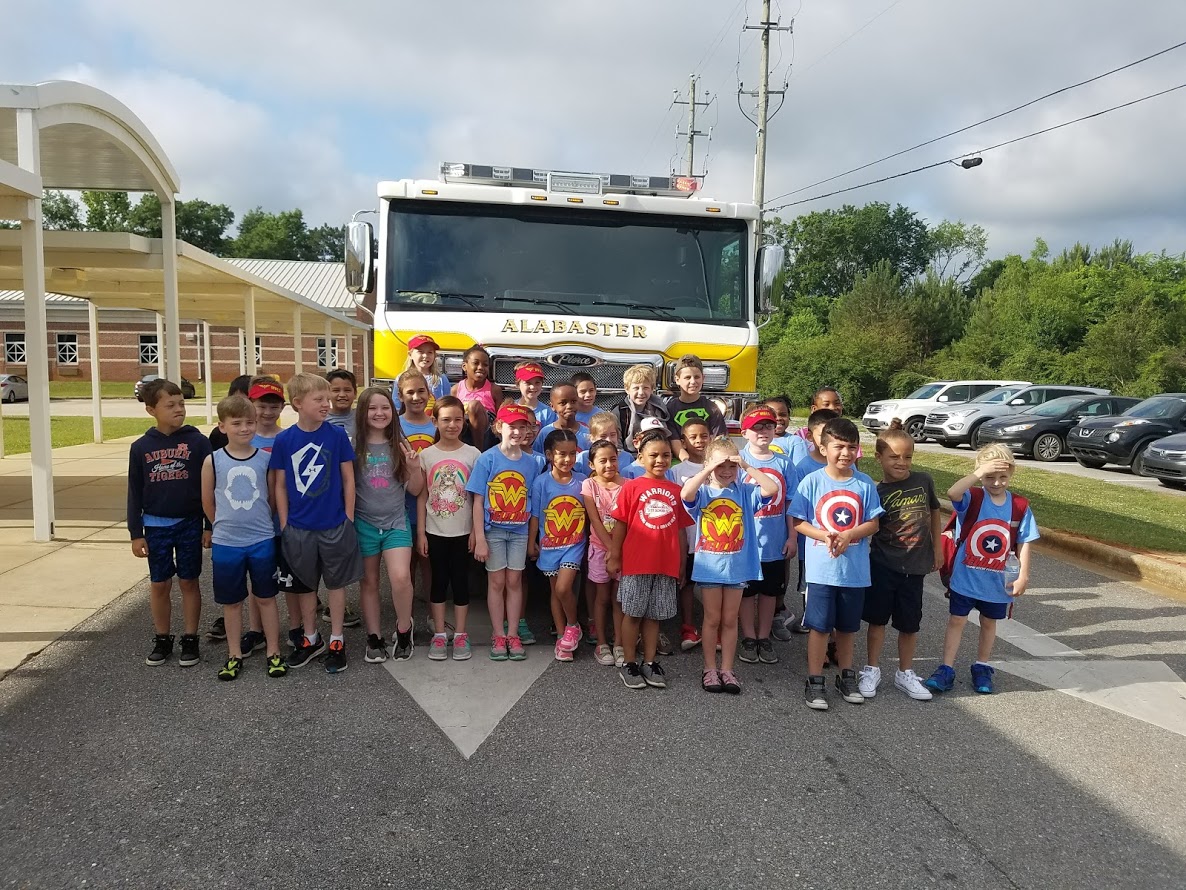 Field day was a little more special for these first and third grade classes when they got to see Alabaster's newest firetruck up close!
This year the Night for the Angels Gala raised over $3,800 for AWF! That is awesome! Set a reminder on your calendar and plan to attend next year. Maybe YOUR kids will be the next to ride Alabaster's firetruck to school!
Thank you so much to AWF and Alabaster Fire Department for putting this experience together for our boys and for ALL the hard work they do in the community!
Angel Warriors Foundation Upcoming Events
Alabaster Fourth Fridays - May 25th, June 22nd, July 27th and August 24th - Celebrate our community with FOOD, MUSIC, ART, FUN PLUS 100% of profits will benefit special needs individuals IN THE ALABASTER COMMUNITY!
AWF 5K Walk and Run - June 2nd - all ages and abilities welcome
Sensory Friendly Area at Alabaster City Fest - June 2nd
Specials Needs Summer Camp - three weeks starting June 11th
And a special needs football skills clinic is in planning for June 22nd - stay tuned to AWF's Facebook page and website for updates!
----------------------
Macaroni Kid South Birmingham is a free weekly e-newsletter and website focused on fun family events and things to do with kids in the South Birmingham region. We gather together all kinds of local family events and activities each week, and add useful information about classes, family-focused businesses, book and product reviews, recipes, crafts, school and camp guides and more. We proudly serve families in downtown Birmingham, Mountain Brook, Homewood, Vestavia Hills, Hoover, Pelham, the Oak Mountain and 280 area, Helena and Alabaster.