My son Evan has always struggled with regulating his emotions.  We just assumed it was an age-related maturity thing, and that he would eventually grow out of it.  However, a recent diagnosis of ADHD (attention deficit hyperactivity disorder) changed our thinking and approach to helping him with this issue.  Like many of you, we did not know that emotional regulation is a huge part of having ADHD, and that it takes ADHD brains much longer to mature in this area.  But ALL kids struggle with this sometimes.
Making a glitter jar, otherwise known as a calming bottle, is a great project to do together, to help teach kids ways to calm down when they are feeling especially angry or upset.  We discovered this idea on the youtube channel, How To ADHD, an awesome resource for parents and people who have ADHD.  A great time to have a conversation about ways to deal with strong emotions is while you are making a calming bottle.  Have your child leave one in his/her room or wherever your "time out" place is located.
What You'll Need:
​Empty jar or bottle with tight fitting lid
Mason jar or other heat-resistant jar to mix in
Goo gone or other adhesive remover if your bottle has a sticky label to remove
Wire whisk or something to stir with
Funnel

Very hot water

Glitter glue of various colors
Lots and lots of glitter (different sizes and colors)
Foil confetti (optional, but fun if you want a variety)
Food coloring
Clear glue (must be clear while still wet)

Super glue and/or colorful duct tape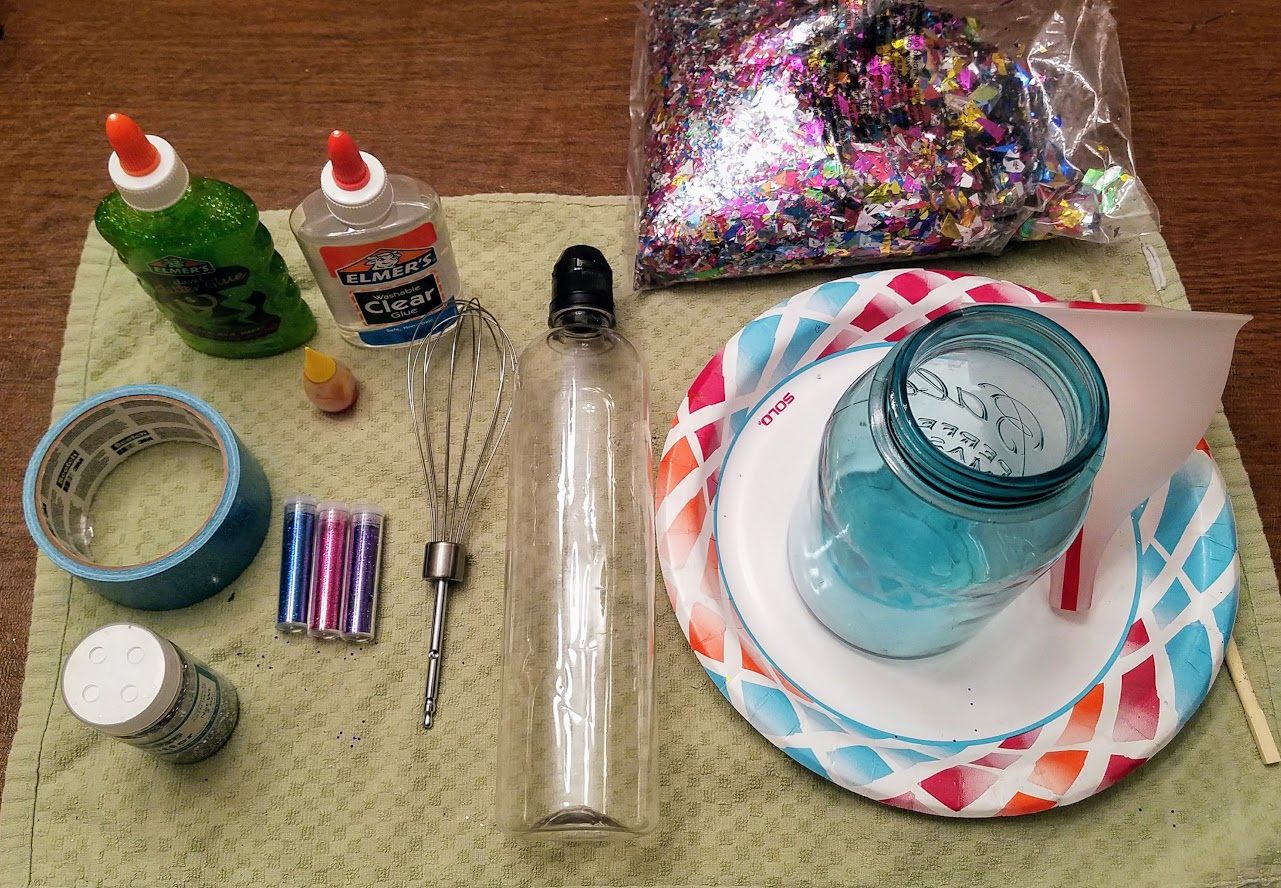 How to Put it Together:

1.  If your jar or bottle has a sticky residue after removing the label, wipe it clean with Goo Gone, or another adhesive remover.
2.  Heat some water in a kettle until very hot (does not need to be boiling) and pour it into your heat resistant container.
3.  Take the nozzle off the glitter glue and pour about half the bottle into the hot water.  Using a wire whisk to stir glue until it completely dissolves.  Note: Jessica, at How to ADHD, warned us that it is important to use hot water, and she's right!  Of course, we didn't listen the first time around and had to learn the hard way.
4.  Add lots and lots of glitter, the more the better.  Different sizes and colors is great, but you may want to stick with a color scheme.  Make several and see what you like best!
5.  We decided to add a little foil confetti to our jars for a fun effect.  The foil is very buoyant so it moves faster than the glitter.  Variation: some people like to add shimmery, metallic paint.
6.  Stir it all up and pour it into your final container using the funnel.  You may need to swirl a little more water in the original jar to get all the glitter to transfer to the new container.
7.  Now add more water and clear glue to your final container until the container is filled.  More water for fast moving glitter, more glue for slower moving glitter.
8.  For added color, try adding a couple drops of food coloring to the water.  Be careful not to add too much or you won't be able to see the glitter very well.
8.  When it is finished, super glue the lid on, or just cover it completely with fun duct tape.
9.  Enjoy!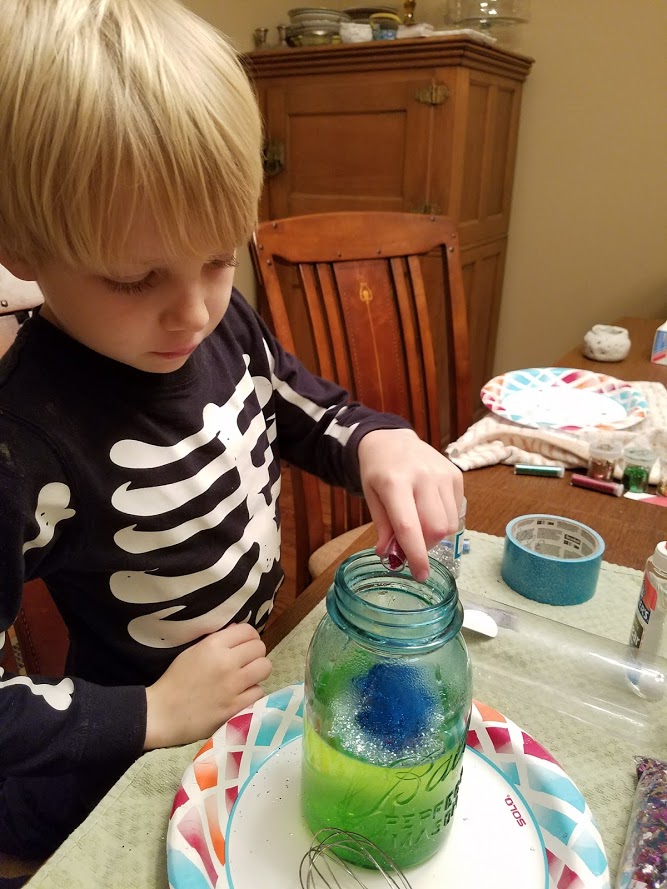 Cole kept saying "I'm gettin' crazy with the glitter!"

Here's Evan running through the steps for making a glitter jar on youtube.
​
---------------------- 
Macaroni Kid South Birmingham is a free weekly e-newsletter and website focused on fun family events and things to do with kids in the South Birmingham region. We gather together all kinds of local family events and activities each week, and add useful information about classes, family-focused businesses, book and product reviews, recipes, crafts, school and camp guides and more. We proudly serve families in downtown Birmingham, Mountain Brook, Homewood, Vestavia Hills, Hoover, Pelham, the Oak Mountain and 280 area, Helena and Alabaster.