Our whole family loves the experience of live theatre, but after seeing some kids performing in a professional musical last year, my older son Evan told me he wished he could be in a show.  In fact, both my kids spent weeks putting on musicals in our kitchen after that kid's show.  So, I did some sleuthing to see what programs might be available nearby.  I discovered South City Theatre in Pelham, Alabama.
Starting last Fall, Evan participated in the younger kids program (Bridge to Workshop), which is designed to introduce kids to the ins and outs of theatre and all the different roles they may play in producing a play.  A truly creative experience, the students in this class write, direct, design costumes and props, and then act in, their own short play.  At the end of the semester, the kids put on the play for friends and family to show off the results of all their hard work.  This class is a great introduction to kids curious about theatre.  Cole decided he was too shy to take this class, but after watching Evan have so much fun, he has decided he wants to join in!  So they will both be in the program this Spring.
During every class, kids participate in theatre games to improve their confidence and improvisational skills.  In this game, each kid becomes part of a "machine," which is unique, but has to work with the other parts, going faster or slower until the machine "explodes."  There is quite a lot of giggling during theatre class!  Watch this video to see what it is like.  You can hear the teacher calling out directives to the young actors.
​
After the bridge to workshop program, or if they are ready and in 3rd to 8th grade, kids can take a twice a week workshop, which results in fully staged 45 minute production to be presented at the end of the semester. This past semester, kids in the workshop class performed "The Boy Who Cried Wolf," to a delighted audience. So many people wanted to see the kids perform, they ended up putting on two shows, back to back. What a great experience!

Do you have a budding stage presence in your family? Could your child use a self-esteem boost?  Is he/she creative and need something fun to do after school? If you answered yes to any of these questions, you will definitely want to consider enrolling your child in one of these programs.  From Kindergarten to age 18, and from theatre games to full stage productions, there is sure to be a workshop for every kid in your family.
This Spring, South City Theatre is offering four different workshop opportunities for kids.  The theatre is thrilled to have local middle school theatre teacher back to direct the "Fee Fi Fo Fum" workshop this season!  There is some overlap in ages among workshops, so your child's specific experience and enthusiasm will determine which class will suit them the best.  If you aren't sure, email Children's Programming Director Emily Hoppe at hoppearts@gmail.com.
There is a $25 discount for siblings and multiple class enrollment.  Be sure to tell them Macaroni Kid sent you!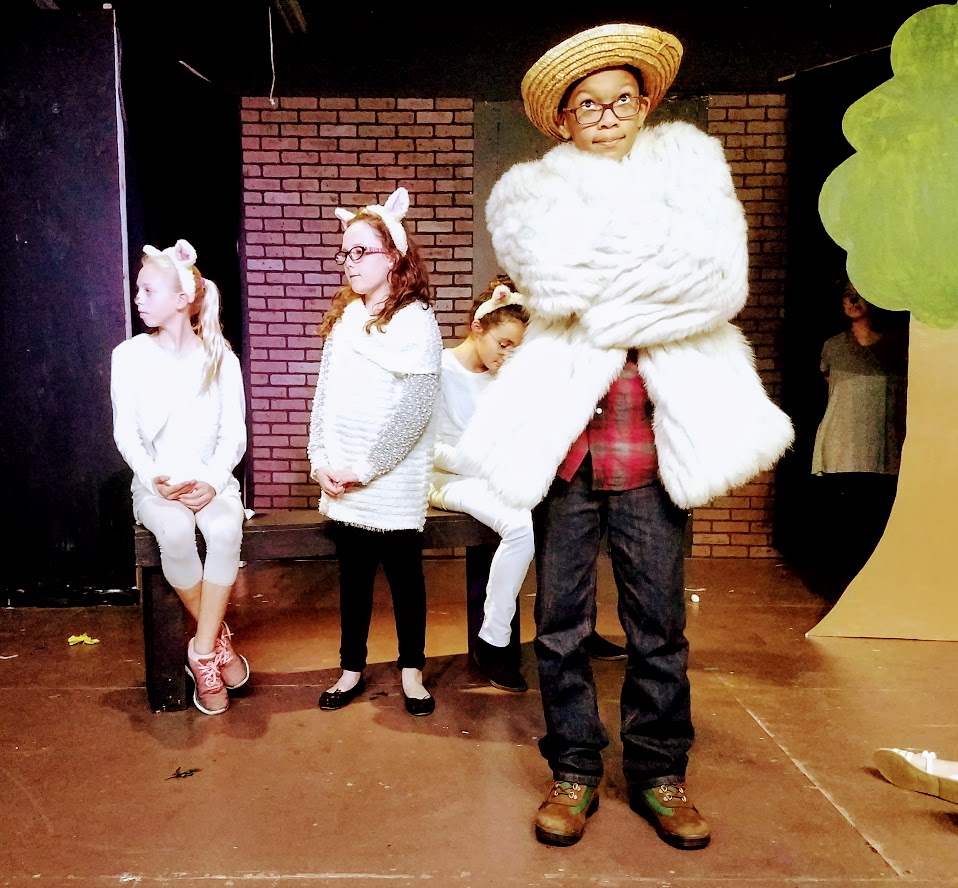 The boy who cried wolf and some sheep during the Fall performance by the workshop class.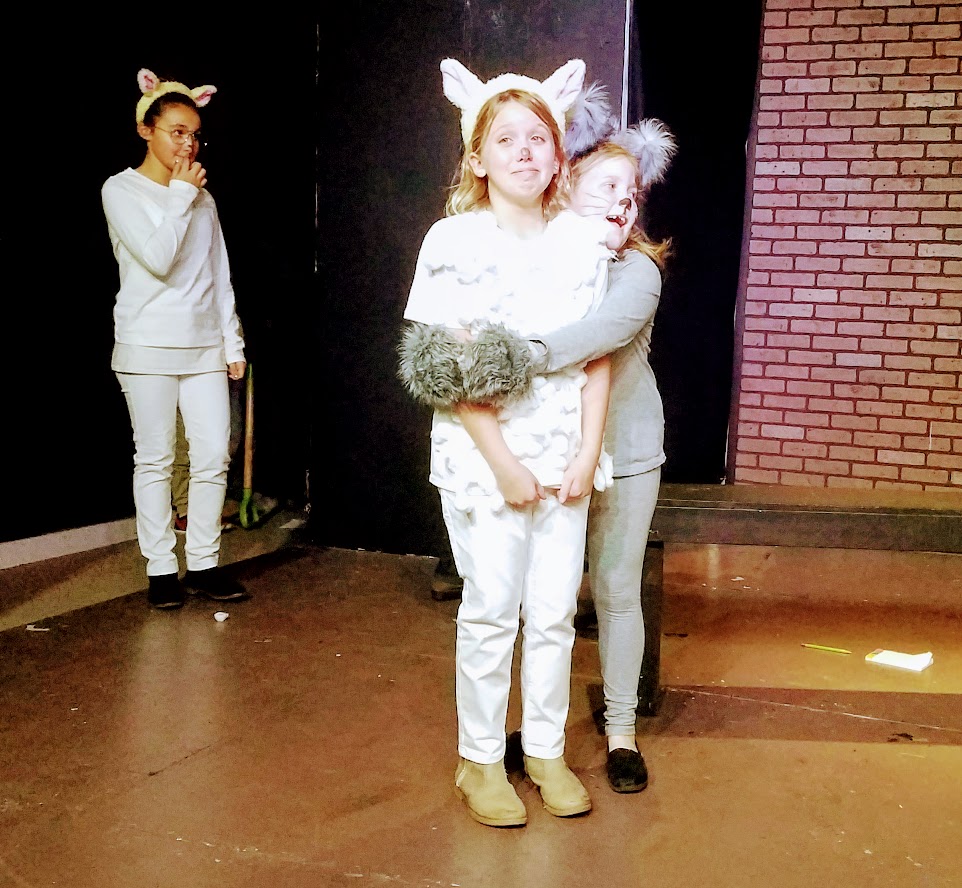 This wolf was more interested in keeping a sheep for a pet than eating one.  The kids did a great job of entertaining their audience!
Workshop Details for Spring
BIGGER THAN LIFE

Tall tales, folktales, talking tales, noodles, whoppers, windies, stretchers — everyone has a different name for these stories. Whatever you call them, America's legends come to life in this lively, delightful award-winning play that will appeal to all ages. When P.T. Barnum arrives in town with his traveling troupe, the mayor isn't so sure Barnum's on the level. So the master showman agrees to give a sample of his wares. What follows is knee slappin', foot stompin', rip roarin' fun, as some of the best loved characters in American folklore come to life to show us their stories. As P.T. Barnum might say, prepare to be amused, amazed, astounded, edified and infinitely entertained.

• $250
• 6th-12th grade level
• January 22 - April 16 (no class February 19 or March 26)
• Mondays, 9:00 am - 12:00 pm
• Students will learn acting technique as well as theatre vocabulary and procedures throughout this class. They will build skills through improvisational theatre and gain confidence by receiving materials and preparing for an audition. They will then be cast in and rehearse a fully staged one-hour production to be presented at the end of the semester. Everyone gets a role and has a hand in designing all the elements for the show!
• Taught by Emily Hoppe


FAIRY TALES GONE WILD

• $150
• Kindergarten - 4th grade
• Feb 5th - April 23rd (no class February 19 or March 26)
• Mondays, 4:00 pm - 4:45 pm
• Students will learn the ins and outs of the theatre, including vocabulary, protocols, and the different positions people fill. They will build skills through improvisational theatre and gain confidence and competence by creating their own script! The final class will include a showcase where students will perform their original play.
• Taught by Emily Hoppe

 
FEE, FI, FO, FUM!

This musical adaptation of the classic English folk tale will surely delight with six charming songs. See Jack as he goes up the beanstalk and into the castle where he not only fights Gogmagog, the giant, but a malicious troll as well.

• $250
• 3rd-8th grade
• February 26 - April 22
• Mondays, 5:00 pm - 7:00 pm; Saturdays, 10:00 am -12:00 pm
• Performances April 20 - 22
• Students will learn the basics of musical theatre, including singing, dancing, and acting. They will audition for and rehearse a fully staged 45-minute musical production to be presented at the end of the semester! Everyone gets a role, sings songs, and has a hand in designing all the elements for the show.
• Directed by Dianne Rowe
• Music Directed and Choreographed by Emily Hoppe
 

AUDITIONING AND ACTING TECHNIQUES

• $150
• 6th-12th grade
• February 3 - April 28
• Saturdays, 10:00 am -12:00 pm
• This class is designed to get the student comfortable with auditions, competitions and performances. The goal is to raise your child's confidence and self esteem when placed in situations where you must perform or speak in front of a crowd, as well as teach life skills that will translate to every aspect of your life including the classroom. With improv, scene work, monologues and more, the student will learn how to carry themselves with confidence into any situation.
• Taught by Marietta Lunceford

​---------------------- 
Like this article? Macaroni Kid South Birmingham is a free weekly newsletter and website focused on fun family events and things to do with kids in the South Birmingham region. We gather together all kinds of local family events and activities each week, and add useful information about classes, family-focused businesses, book and product reviews, recipes, crafts, seasonal guides and more. We proudly serve families in downtown Birmingham, Mountain Brook, Homewood, Vestavia Hills, Hoover, Pelham, Oak Mountain area, Helena and Alabaster.  Sign up for our newsletter and never miss another awesome event again! Subscribe here for FREE at https://sbirmingham.macaronikid.com/subscribe