A group of mom friends in my neighborhood decided we needed a fun night out just for us.  So when the Art Studio of Calera hosted a craft workshop for Christmas door hangers, we signed up!  Girlfriend painting and wine parties are the hip thing to do these days, you know, and now we know why!  If you'd like to try it out yourself, you can save $5 on your first class for you or your child by mentioning "Macaroni Kid."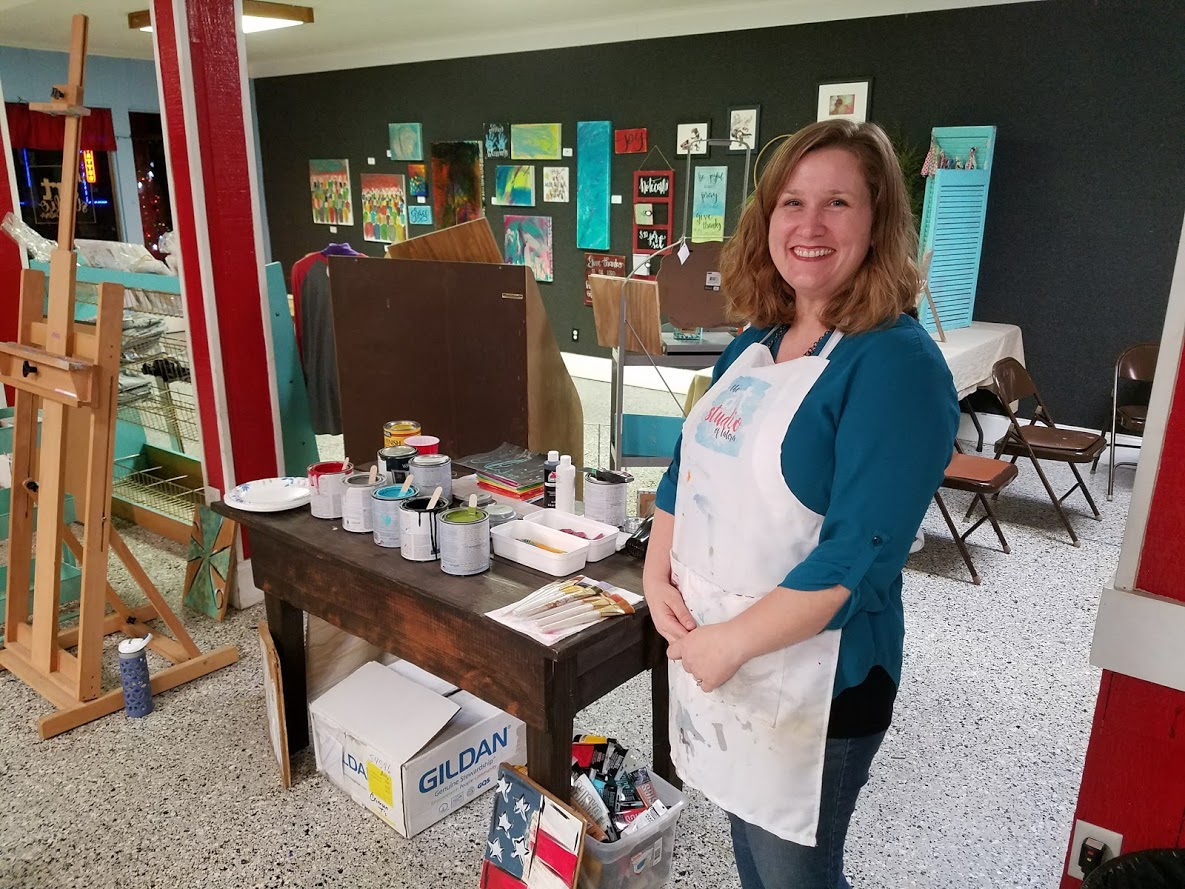 Alison Baggett, studio owner and art teacher, with our project supplies all ready for us.

Before the party, everyone had so many questions.  What are we going to make? Do we all have to make the same thing? What if we don't know what we're doing? Alison Baggett, the owner and teacher for the studio, gave us two basic options to choose from, and reassured the not-so-artistically inclined that she would demonstrate whichever option the majority ended up choosing.  But, much to my surprise, we did get the freedom to create something unique, if we decided we wanted to be brave.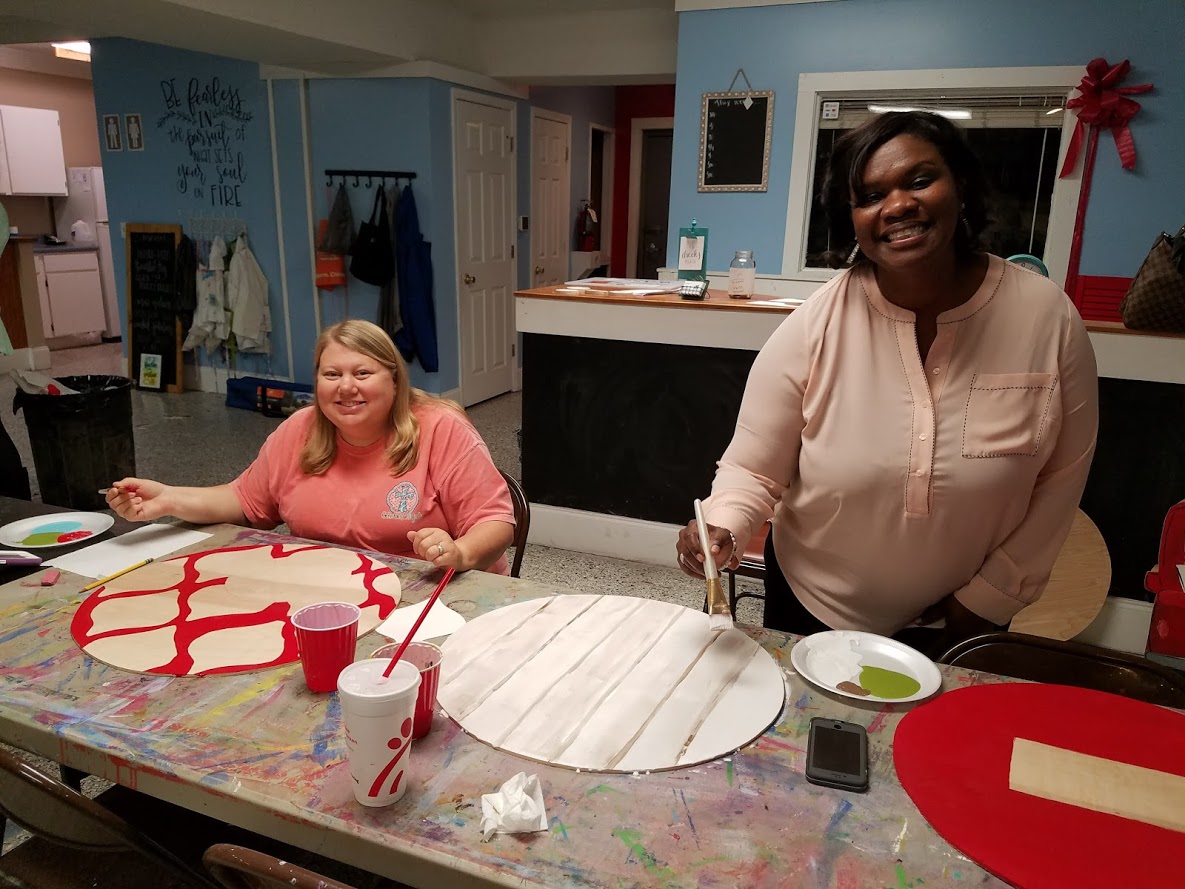 Alison showed Tameka (right) how to paint faux wood for her door hanger.  I thought it turned out very realistic looking!

There were six of us attending the workshop, and we all chose to do a circle-shaped door hanger.  BUT, look how different they all turned out!  A couple of us wanted to make Alison's example project, two of us wanted to make a totally different idea from pinterest, and the remaining two had two more great ideas.  Alison accommodated us all.  Rather than stand up at the front, and direct our project step by step, she happily went around the room helping each person create something unique.  I don't think you are going to find that at other art studios.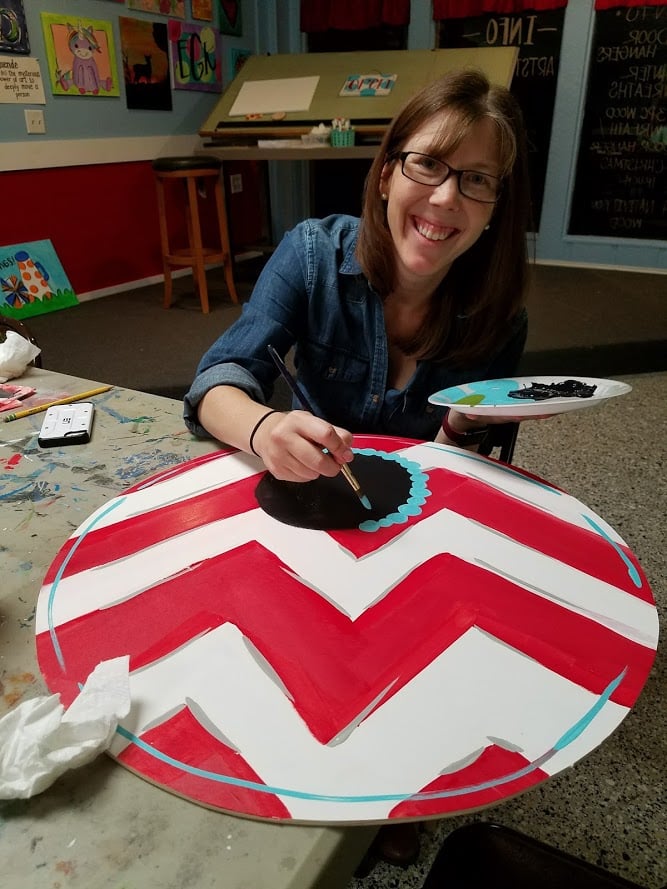 It was so nice to just show up for the workshop and not have to think about rounding up all the supplies, making a giant mess in your house or getting stuck with a bunch of extra supplies you'll never use again.  The art studio has all the supplies, the space to create and the expert advice to make your crafty vision a reality.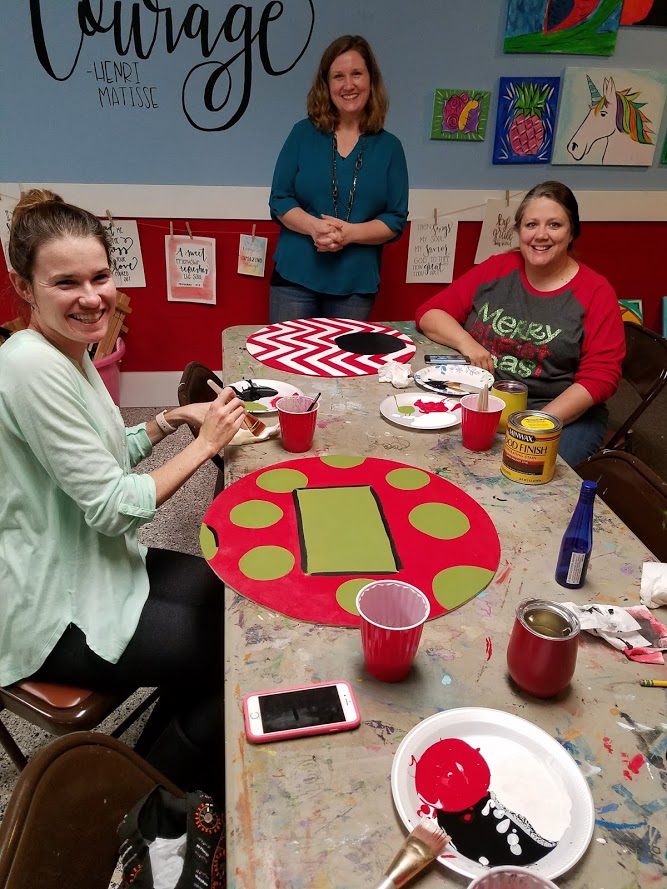 Some of us wanted to do name signs and some of us wanted to make "countdown to Christmas" signs with chalkboard paint.

Bring on the wine.  For a truly relaxing and fun friend's night, you are allowed to bring whatever you'd like to drink and snack on.  Just remember to bring a cork screw and glasses.  Of course, scattered mamas like me (who pack up the wine glasses, but leave them on the counter at home), will be relieved to know that Alison has red party cups just in case you forget.  Not quite as classy, but hey, better than swigging from the bottle.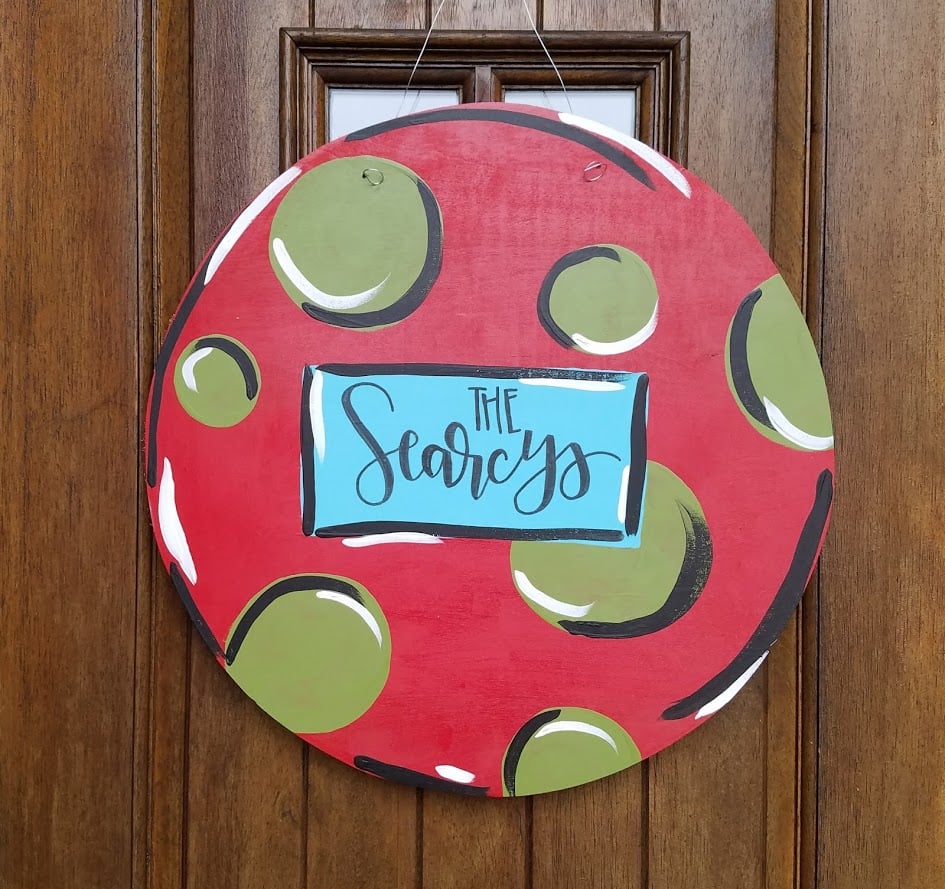 Here is my finished project.  I was too chicken to do the lettering myself, so Alison did that part.  If you want to learn how to create lettering like this, Alison has workshops you can take just for modern calligraphy.

If your friends aren't the crafty sort, feel free to sign up for a workshop on your own and make some new friends.  The Art Studio of Calera has all their upcoming events posted HERE.


So what else can you find at the Art Studio of Calera?  Here are just a few things:
​One hour art classes for kids, grades Kindergarten to High School, with a monthly tuition of only $45/month!  There are after school classes and classes during the day for homeschoolers.
Drop, Shop and Paint - For less than you'd pay a babysitter, let your kids have some pizza and crafting fun while you get some last minute holiday shopping done!  Next event is planned for Saturday, Dec. 16th, 10 am - 2 pm, for kids ages 4 - 12.
Kids Paint Parties - let your crafty kid invite his/her friends to celebrate their birthday with a painting party, or get the scout troop or team together to celebrate or earn a patch.
Summer Camps - being planned for summer 2018 and will be posted on the website soon.
Upcoming Hand Lettering Series - Learn Modern Calligraphy over 5 weeks, starting in January.  Sign up HERE.
The Art Studio of Calera is located in old downtown Calera at 8265 Highway 31.  Parking is directly behind the studio, or on the street in front of the studio.  If you want to get a better view of the studio, here is the FB Live video we made on location (just ignore the giveaways mentioned...they are finished!).  If you want to see it in person, there will be an open house to celebrate one year of business on Thursday, Jan. 11th from 3 - 6 pm, with fun and door prizes.  



Want to know more about Alison and The Art Studio of Calera? Here's a little back story in Alison's own words:
I opened The Art Studio of Calera in January 2017, but it really began several years ago, when we were getting ready to fund our adoption.  I wanted to be hands on with fundraisers, and I was able to do that through a little side hustle called "Projects with a Purpose."  I was basically doing the same things then, that I do now, in the studio.  My goals for Projects with a Purpose were to share the gospel in anything I did, to fund our adoption, and to be able to bless other families after our adoption was funded. Fast forward to 2015, when our adoption was completed, and I was looking at my husband, asking, "what's next?"  My mentor and friend from high school/college roommate, opened a business similar to mine 10 years ago. It was through her encouragement and wisdom that I had the tools to move forward with growing [the studio] into what it is today! Kasey is still someone I look to for advice, practical things, and encouragement when things are tough.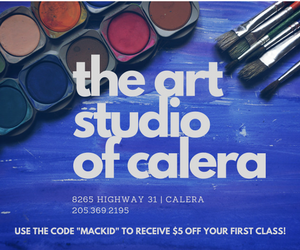 ​---------------------- 
Like this article? Macaroni Kid South Birmingham is a free weekly newsletter and website focused on fun family events and things to do with kids in the South Birmingham region. We gather together all kinds of local family events and activities each week, and add useful information about classes, family-focused businesses, book and product reviews, recipes, crafts, seasonal guides and more. We proudly serve families in downtown Birmingham, Mountain Brook, Homewood, Vestavia Hills, Hoover, Pelham, Oak Mountain area, Helena and Alabaster.  Sign up for our newsletter and never miss another awesome event again! Subscribe here for FREE at https://sbirmingham.macaronikid.com/subscribe