Skylanders Academy asked Macaroni Kid South Birmingham to gather together a group of Mac Kid Junior Reporters to review the upcoming second season of this cute and inspirational TV show, premiering on Netflix today, October 6th, 2017!  So this past Saturday, we hosted a bunch of friends and neighbors over to our house for a viewing party!  Thanks to swag provided by Skylanders, an amazing cake provided by Itsy Bitsy's Bonbons, and food provided by Chick-fil-a at the Grove, all of our junior reporters and their parents, had a blast at the party, excited to be some of the first in the nation to see the new episodes of Skylanders Academy!
Based on the popular video game, Skylanders Academy is an action comedy, featuring a creative mix of characters that are sure to delight any young Skylanders fan.  The show follows a team of young warriors on their heroic adventures, protecting their world from evil-doers.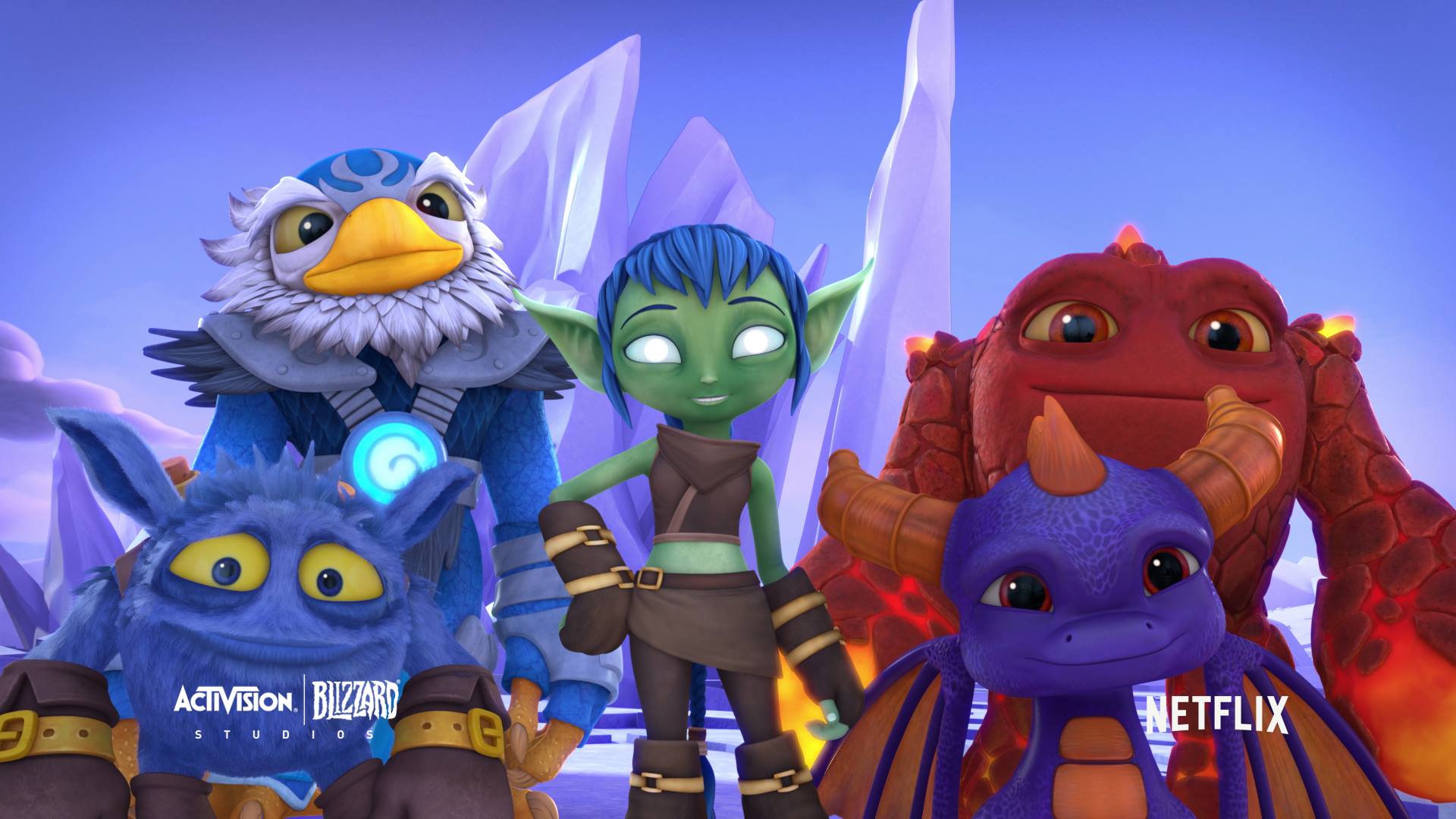 The Skylanders:  Professor Pop Fizz, Professor Jet Vac, Stealth Elf, Spyro and Eruptor.
Macaroni Kid Junior (and Senior) Reporter Approved
There were a lot of kids running around all over the house and backyard during the party, all very excited to be attending.  Despite the chaos of fun, we managed to get them all settled to watch the first two episodes and collect some opinions on the show afterward.  Here's what several of our guests had to say:
Dylan* (age 6):  "It had funny parts!  I'm excited for the new season to start!"  When we raffled off swag for the party and Dylan was given the huge Skylanders poster, he hugged it to his chest.
Guest Dad:  "We're big Skylanders Academy fans, and have watched all the episodes from season one.  I think this new season does a much better job of communicating a positive message to the kids!"
Jennifer* (age 9):  "It was awesome.  I especially liked the characters Ninjini and Spyro!"  She said she would definitely like to watch it again.
Cole (age 6):  When asked what his favorite part was, he said "when Eruptor vomited lava!" Nice, Cole, nice.
*Names have been changed to protect privacy.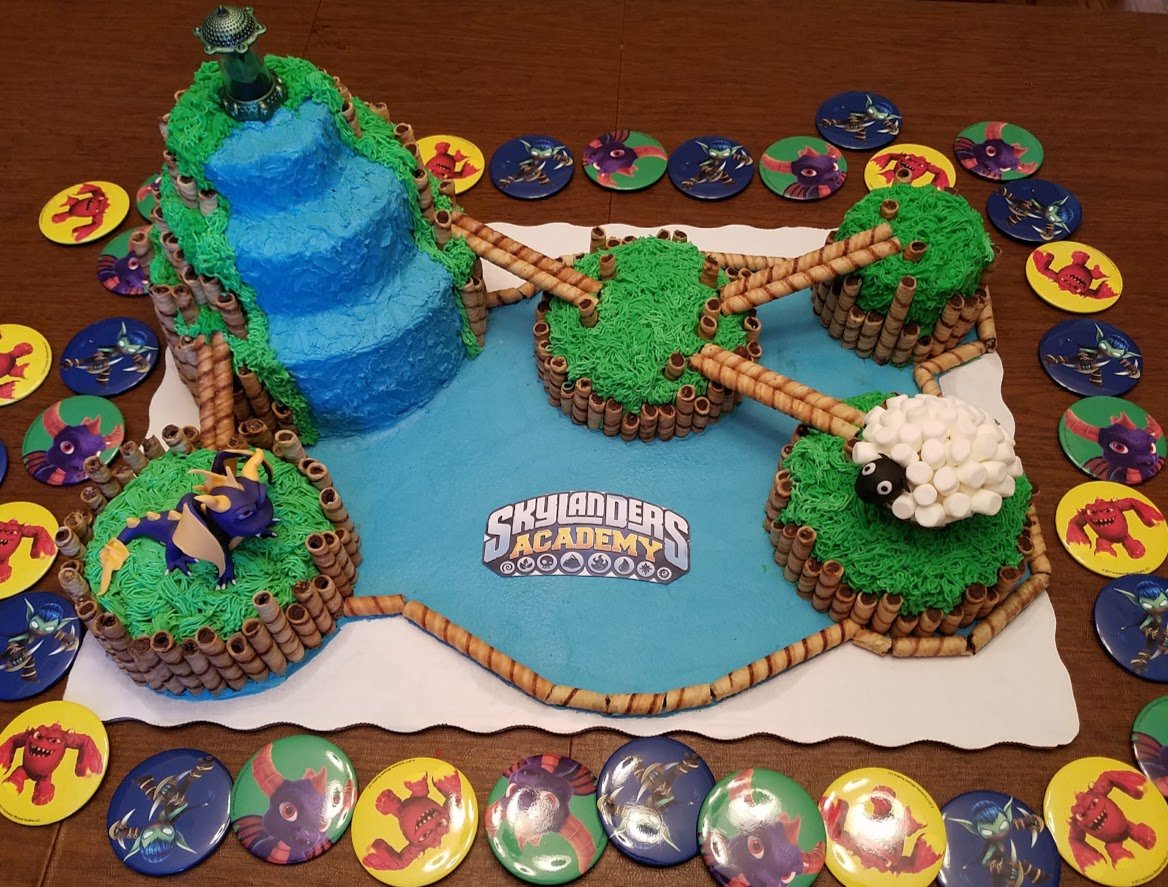 ​ 
Look at this amazing Skylanders Academy cake created by Samantha Trivett of Itsy Bitsy's Bonbons in Alabaster!  Samantha clearly spent a lot of time on this special cake for the party.  We were all especially impressed with her version of Spyro, the purple dragon character!  A work of edible art.
Publisher's Thoughts on the Show
Cole, my younger son, was home from school this week, recovering from a tonsillectomy.  So we chose this time to get in some good snuggle time, and delve a little deeper into the first five episodes of Season Two of Skylanders Academy, together.  Here are my take-aways.
Each episode of Skylanders Academy has its own beneficial and influential message for kids.  For example, in the first episode, Spyro is feeling like he's the only Skylander without a super power.  I'm sure many kids can relate to that, comparing themselves to classmates and siblings.  By the end, he discovers that he is, of course, special too.  Helping him reach this conclusion are his friends, who all encourage him to believe in himself.
Skylanders Academy makes a point of introducing strong female role models with its characters.  This is evident in the second episode.  Even though I am the mom of two boys, I was very excited about this.  Stealth Elf is a female speed demon ninja warrior.  How cool is that?!  Characters like this can teach young girls that they can do anything they want, and be an important part of a team.  But, it will also teach boys the same thing, that girls and women deserve respect as equals in a team setting.  In this episode, Stealth Elf seeks training from Ninjini, another female character, who happens to be the ultimate ninja warrior.
Skylanders Academy does a good job of connecting episodes with a longer, interesting storyline.  Throughout all the episodes we watched, there is an element of mystery.  Spyro, the little purple dragon, doesn't know where he comes from, and begins a search for information about his ancestors.  Perhaps this will help him harness and understand his special powers.  Each episode holds some clues and leaves you wondering what he will discover next and why Master Eon seems to be withholding information from Spyro.  We can't wait to find out!
If you've never watched Skylanders Academy, the entire first season is already streaming on Netflix.  Season Two premieres TODAY, October 6th, 2017!
Here's the season 2 trailer: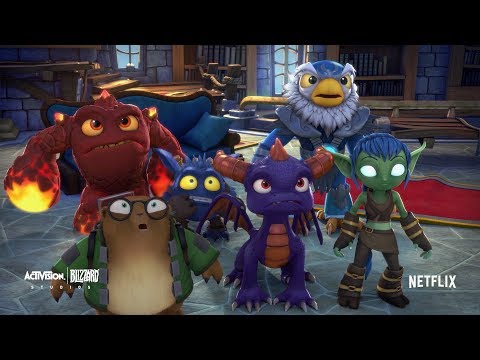 ​
More Fun from the Viewing Party!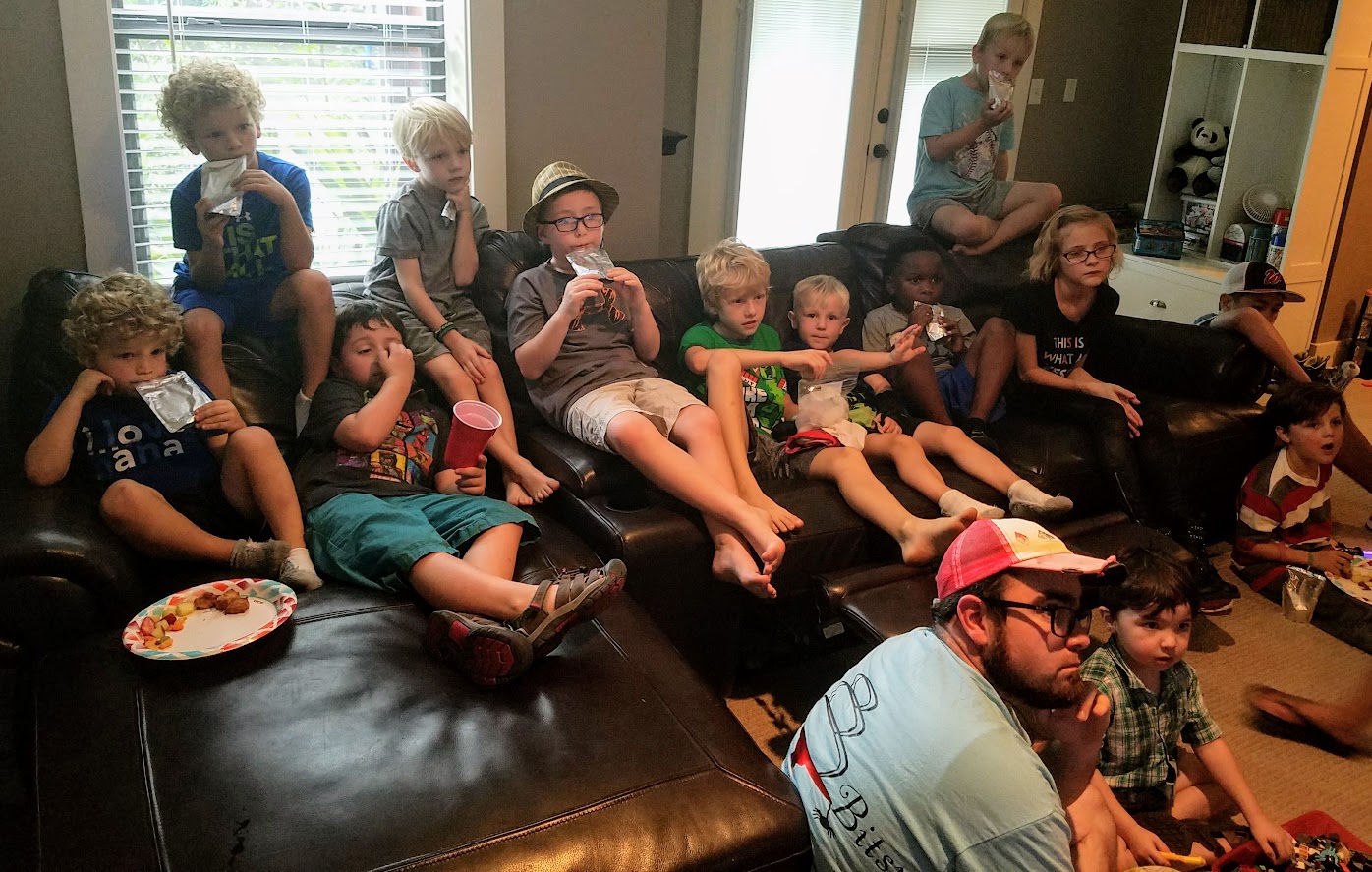 ​
I don't think we could have packed any more kids on this couch or in this room!  Here we captured a rare moment of stillness during the party, as the first episode of Skylanders Season 2 begins.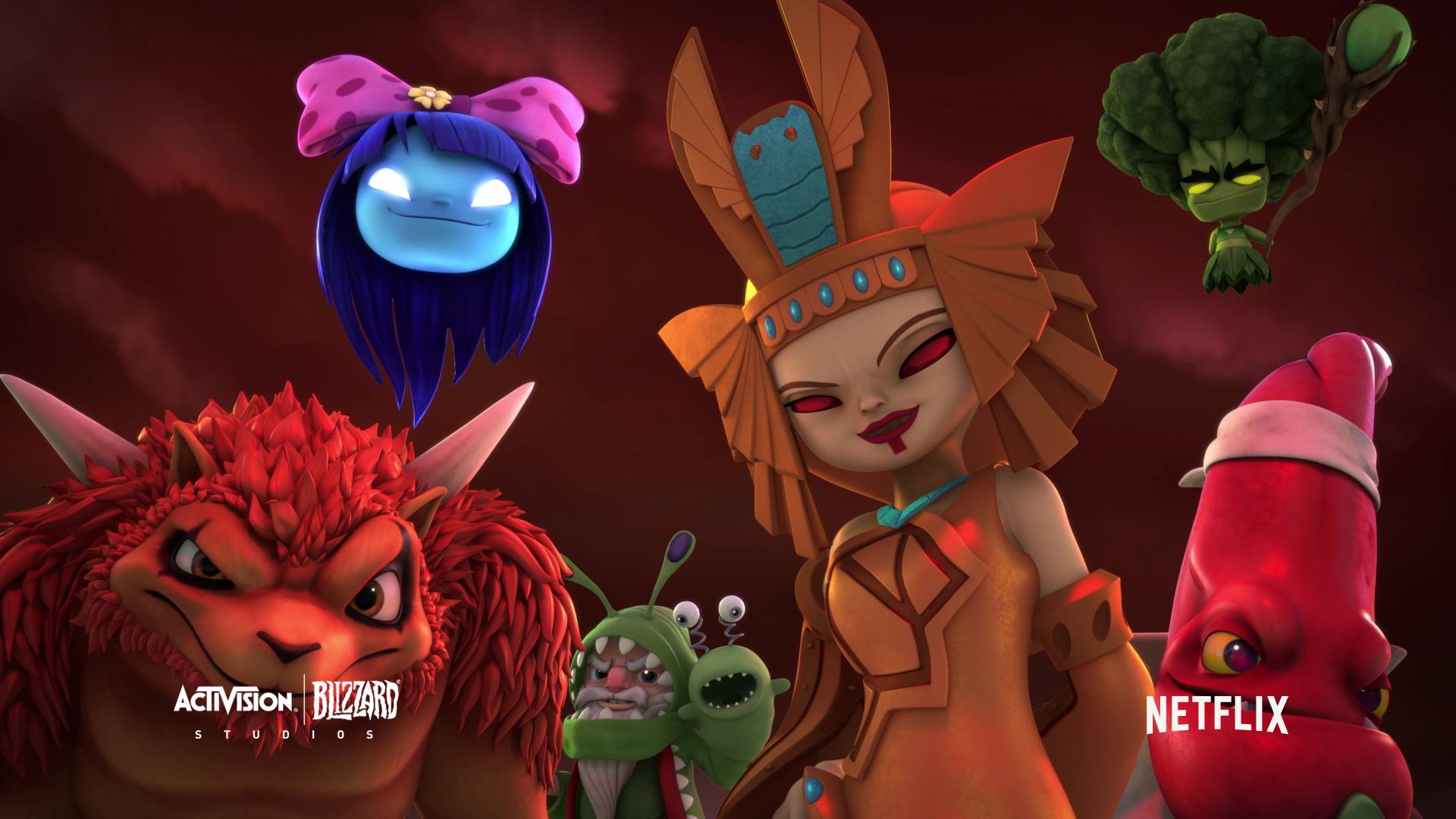 ​
Some of the bad guys (and gals).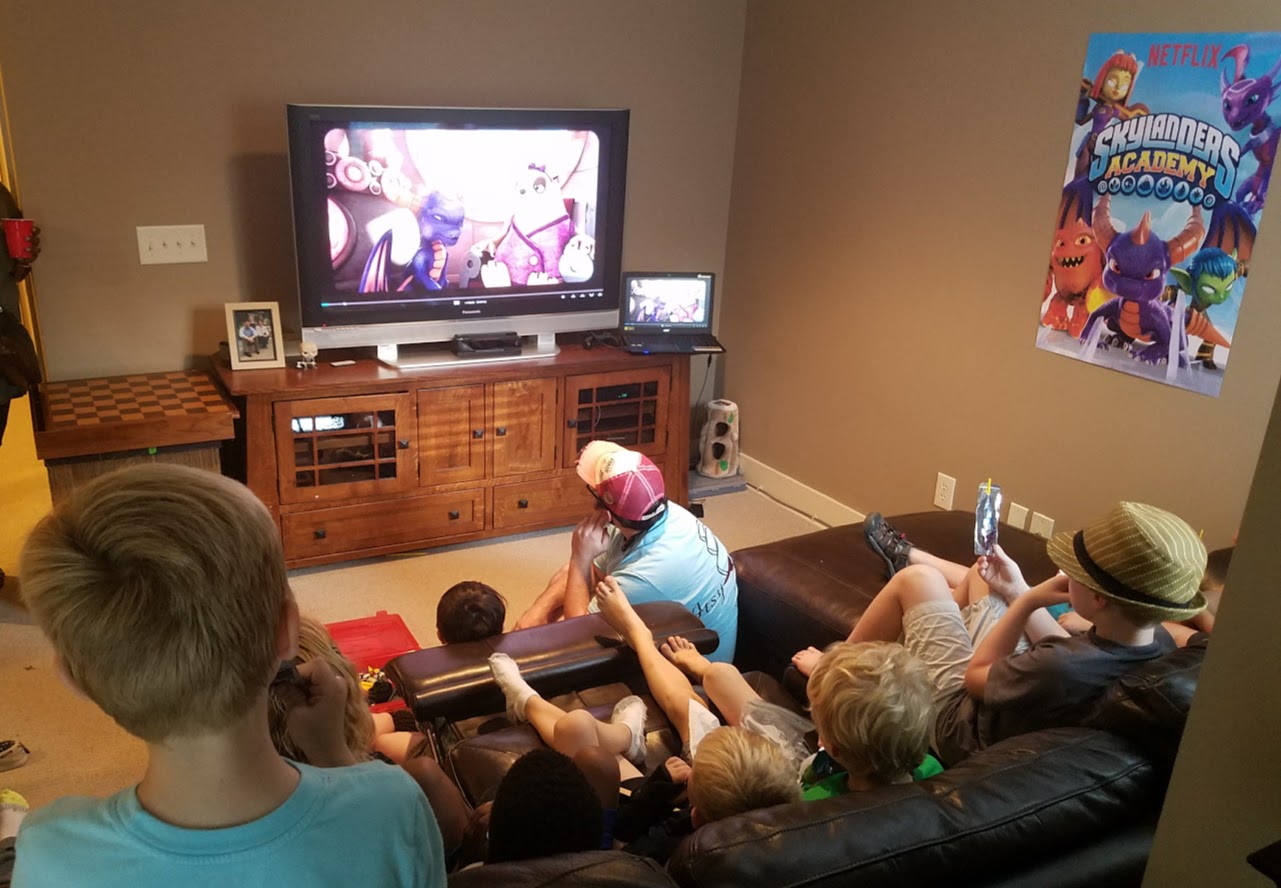 ​
Guests watching episode one of Season Two of Skylanders Academy.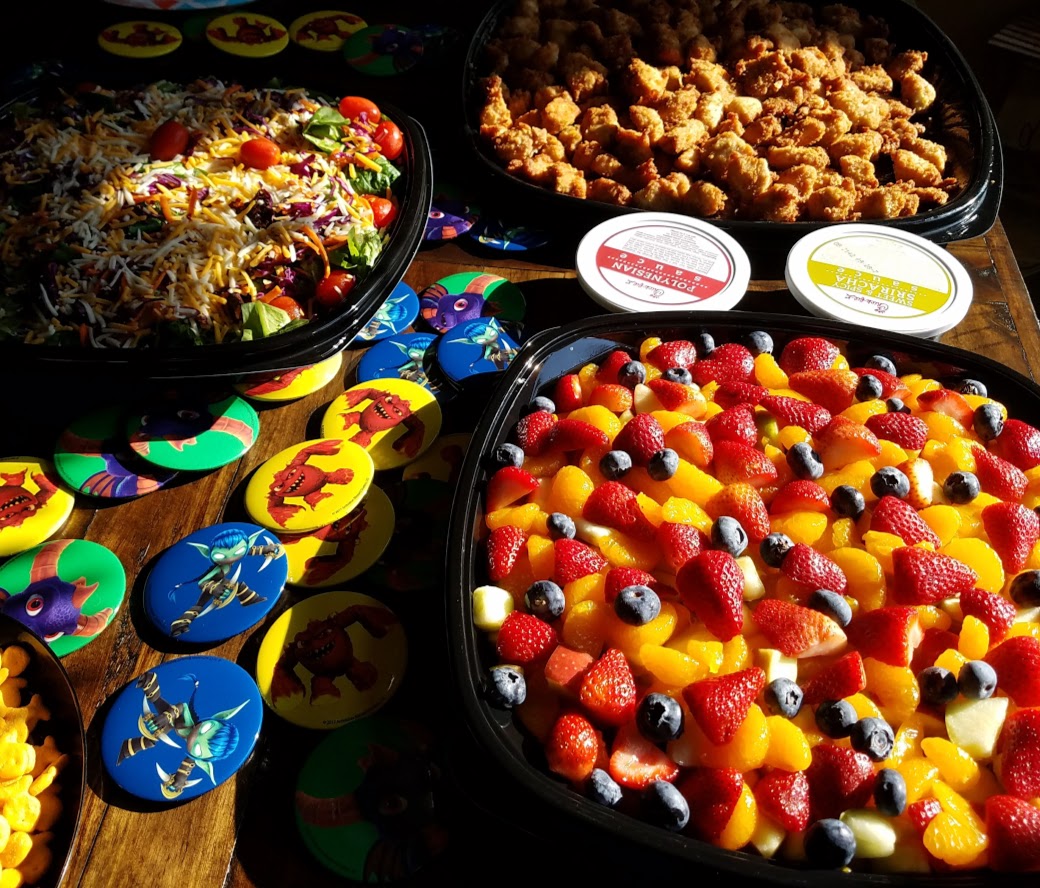 ​
Look at this delicious (and beautiful!) spread, provided by Chick-fil-a at The Grove!  Picking up fruit, salad and chicken nugget platters made our party super easy and stress-free!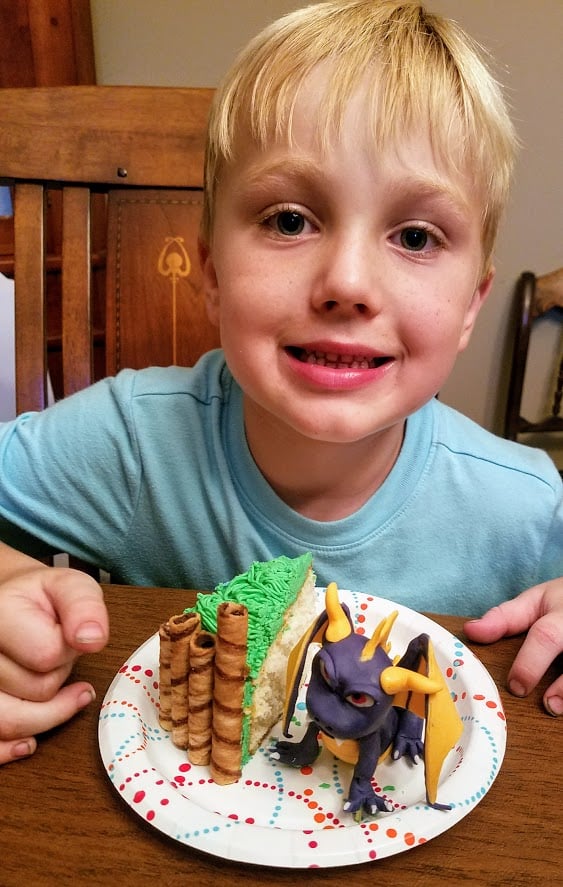 ​er
This guy was super stoked to be the winner of the incredible fondant Spyro from the cake (yes... we had to raffle off the special parts of the cake to avoid a riot).  He ate the whole thing in one sitting (eek!).
Disclosure:  Thank you to our sponsors (Skylanders, Itsy Bitsy's Bonbons and Chick-fil-a at The Grove) for providing swag, compensation, catered food, cake and the opportunity so that Macaroni Kid South Birmingham could throw an amazing preview party and provide its readers with this review.  All opinions are our own, unless otherwise stated.

---------------------- 

Like this article? Macaroni Kid South Birmingham is a free weekly e-newsletter and website focused on fun family events and things to do with kids in the South Birmingham region. We gather together all kinds of local family events and activities each week, and add useful information about classes, family-focused businesses, book and product reviews, recipes, crafts, school and camp guides and more. We proudly serve families in downtown Birmingham, Mountain Brook, Homewood, Vestavia Hills, Hoover, Pelham, the Oak Mountain and 280 area, Helena and Alabaster.
Want to be the first to know about great local events for families? Subscribe here for FREE at https://sbirmingham.macaronikid.com/subscribe