The way-too-short taste of cool, fall weather we had a few weeks ago got me itching for a good hike!  And despite the weather turning hot again, that itch did not go away.  So this past Sunday, we put the kids in swim suits and decided to go explore Moss Rock Preserve, a 350 acre park, located in Hoover, Alabama!
I've been dying to pay this park a visit after hearing so much about it from friends, and checking out pictures on google.  My kids, who are not big on hiking (they'd rather play in one spot, than hike), saw the pictures too and got really excited.
We parked at the "Boulder Field Trailhead," for our first trip.  This proved to be an excellent choice.  From the dirt parking lot, it is a very short walk into the woods to see some amazing geological formations in giant boulders scattered through the area.  You could spend all your time exploring this one area!  Evan loved it so much he exclaimed "Thank you so much for bringing us here!"
Due to its popularity with climbers, the boulder "field" (more like boulder forest!), is criss-crossed with trails in and around all the boulders.  But when you are ready to find the official hiking trails, just head downhill until you find a creek.  There is where you will find the "white" trail, which leads to many others in the park.  There are twelve miles of trails in this park.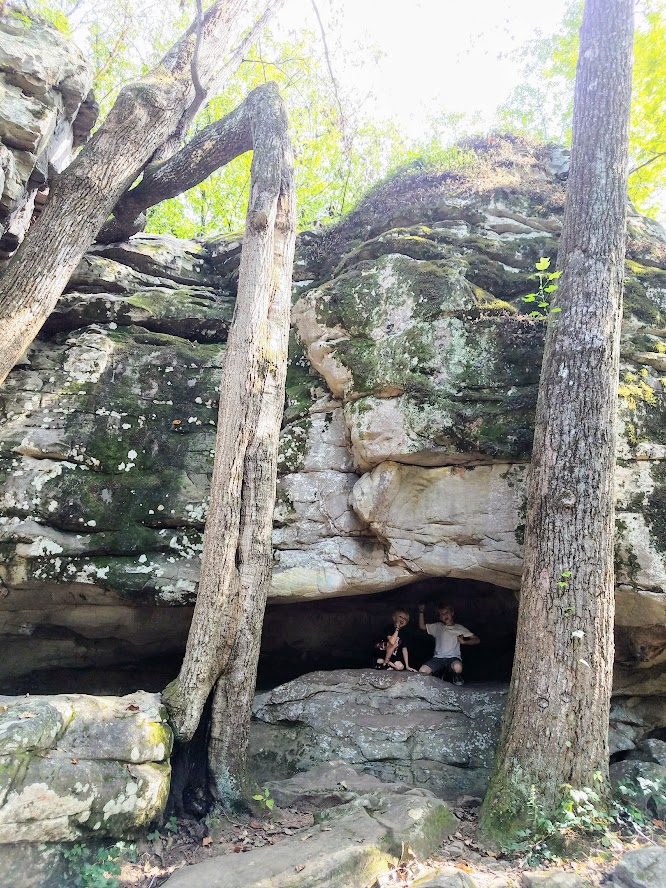 Lots of nooks and crannies for playing "caveman," which apparently means acting like monkeys to these guys!
Before jumping on one of the official trails, we explored the creek area a bit, and the guys came across what we later learned to be the "sandstone glade."  Right now, this little section of the park is SO gorgeous!  Scattered among this rocky area are patches of wildflowers that are so perfect they look curated.  Beautiful colors, tons of honey bees and butterflies busy foraging.  It reminds me a lot of Stone Mountain, in the Atlanta area, if you've ever been there.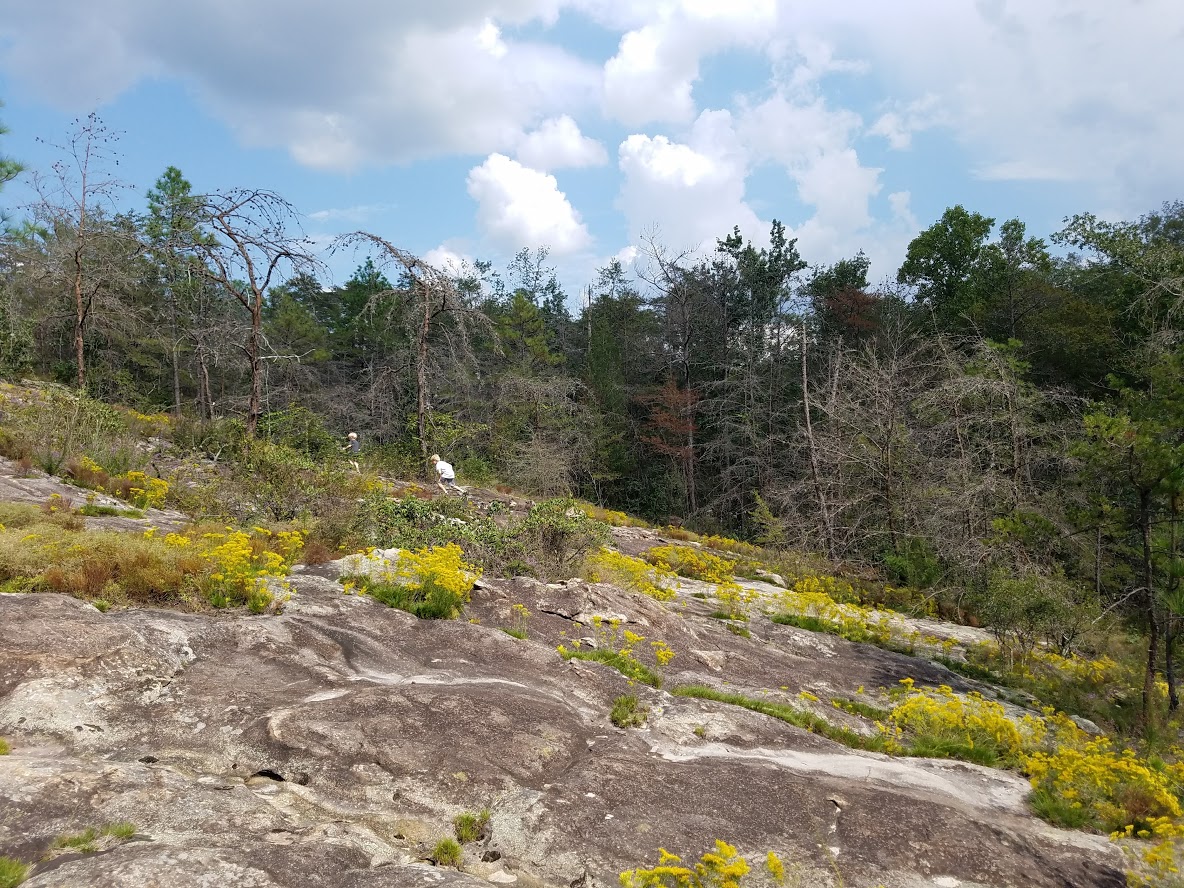 ​
Stunted pines, smooth rocky expanses and patches of wildflowers make this area a wonderland of textures and colors!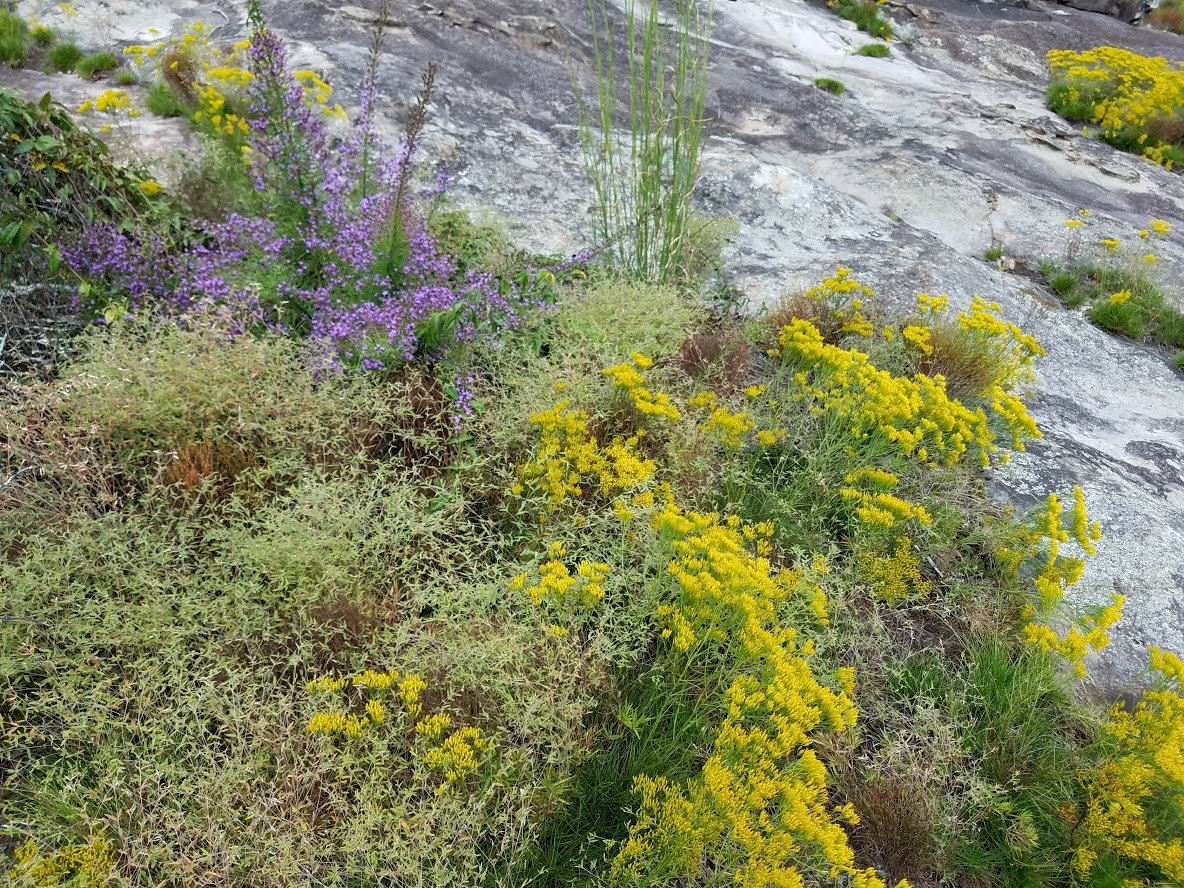 ​
The patches of wildflowers looked as beautiful as any curated, botanical garden spot!
After the sandstone glade, the guys discovered a deep part of the creek, where they happily got to work finding rocks to throw.  The hubs and I enjoyed playing with the slow-motion feature on our phone cameras (I posted my favorite on the Mac Kid South Birmingham FB page).  The slow motion really captures the cause and effect of the rocks hitting the water!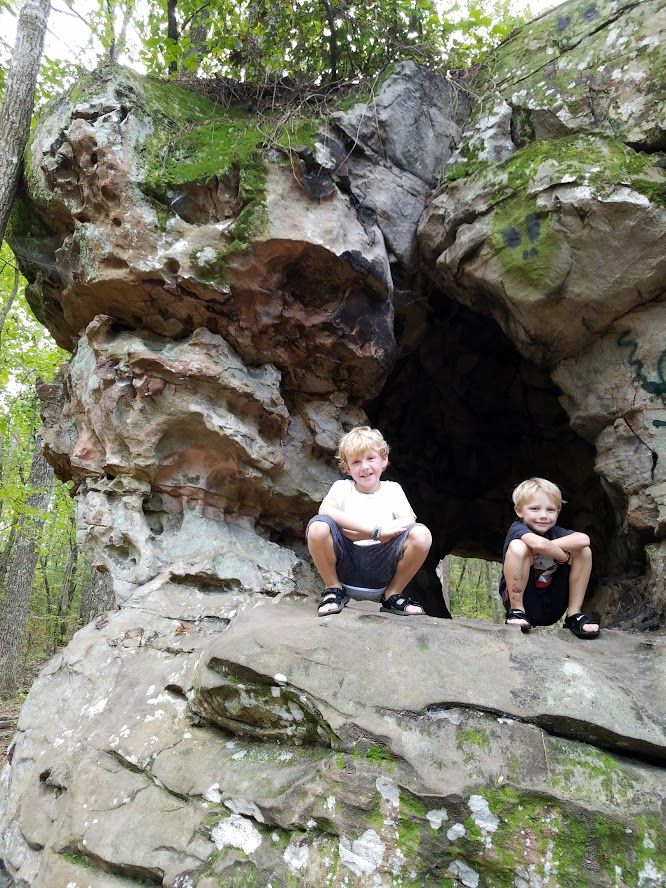 ​
Another fun spot to play "caveman."  The guys enjoyed collecting the giant acorns strewn everywhere and practicing their aim by throwing them in all directions!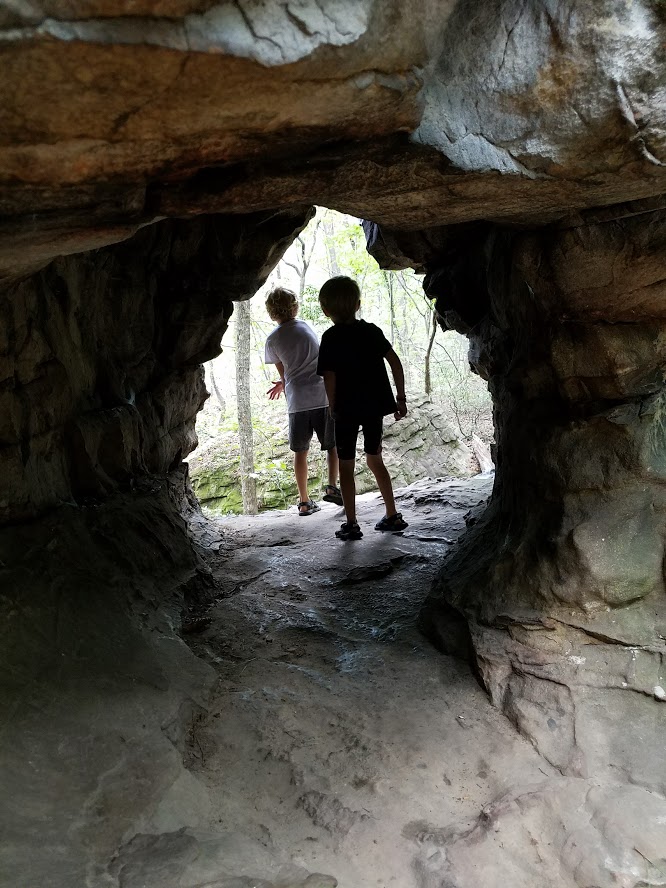 The backside of the same rock.  This is my favorite picture taken from the trip!  A tunnel to Wonderland? Narnia?

After this, we were ready to hike and go find some waterfalls!  Our plan was to follow the white trail and then turn onto the blue trail.  The trees are blazed but we still missed our turn.  There is a "smart-map" that may be helpful for navigating, but make sure you download it ahead of time.  We were able to pull this map up on our phones in the park, but could not download the smart map.  We'll know better next time!  Printing a map ahead of time would have been a smart move as well!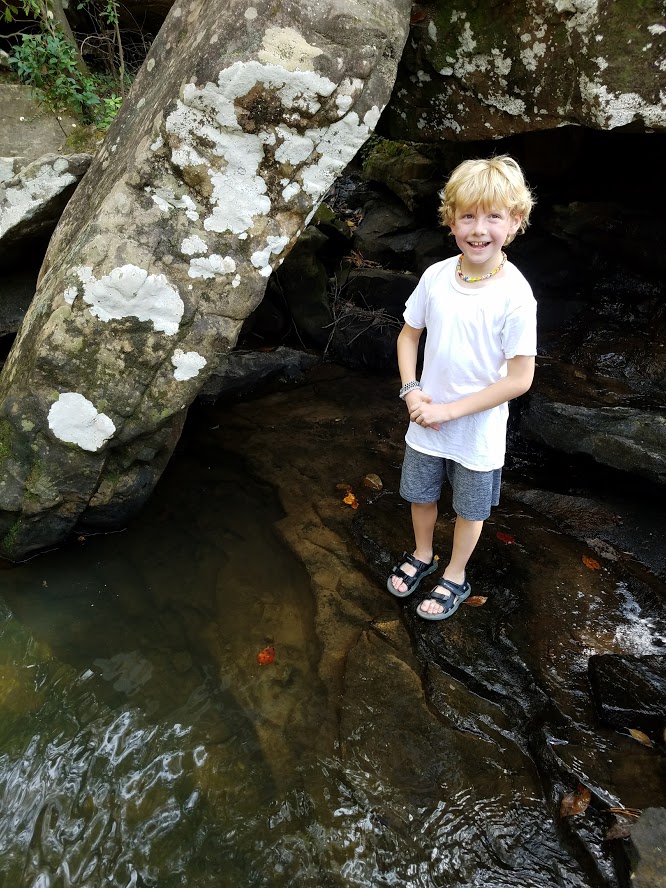 ​
Plenty of opportunities for water play, despite the recent dry weather.  I imagine it will be a completely different experience after a rain.​
Since we missed our turn for the blue trail, we decided to hike one mile down to the "frog pond."  Along the way, some friendly hikers pointed out a shallow area of the creek containing tiny salamanders!  This was the upper part of "tunnel falls" on the map.  However, due to recent dry weather, tunnel falls wasn't flowing too much.  In fact, all the falls we saw were running pretty low.  Perhaps we should've taken a hint from this fact before we hiked out to "frog pond."
On we continued to "frog pond," which, unfortunately for us, turned out to be dry at this time of year!  By this time, the guys, who had charged ahead with enthusiasm, were tired and disappointed by our non-destination.  Then, on the way back, Cole ran downhill and tripped, skinning his knee.  This, of course, resulted in a melt-down.  So, if you've got little people (Cole is 6), and it is still hot, I recommend sticking to the boulder field, sandstone glade and creek areas close to the trail head!  Dress to get wet and dirty!  They both would've been perfectly content to stay in those areas the entire time.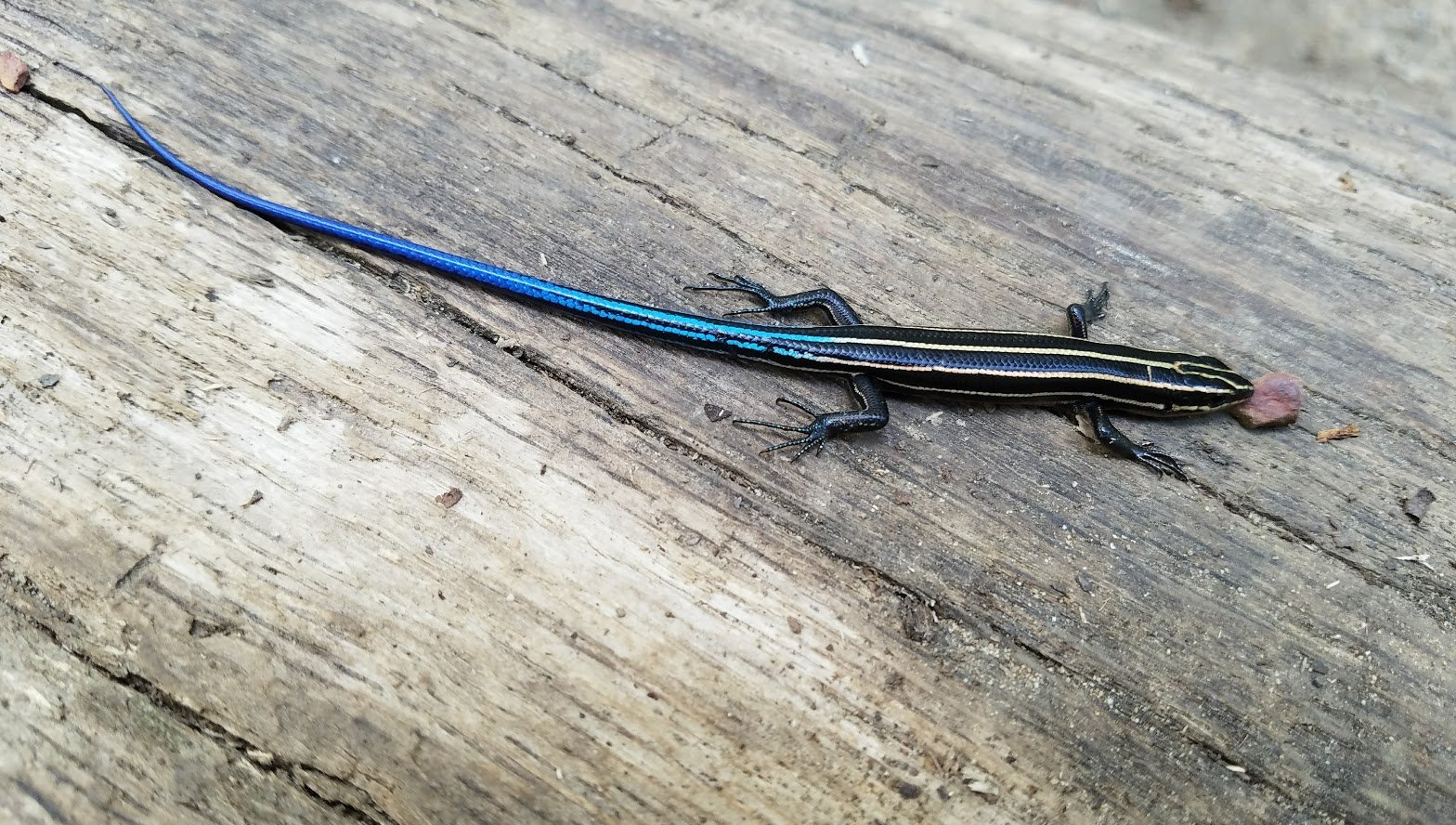 We missed out on frogs, but did find this blue-tailed skink and some tiny salamanders on our hike.
Another thing to consider, when choosing your hiking route, is road noise.  The white trail to the frog pond runs parallel to the fairly busy Preserve Parkway.  So we were able to hear cars passing by, which bothered my husband and I.  If you prefer feeling like you are in the wilderness, choose a different route!  There are plenty of trails well away from roads.
Despite the hot weather and tired little people, we had a wonderful time for our first trip to Moss Rock Preserve!  I can't wait to go back when the leaves have changed or after some big rains.  We will have to go back and catch the waterfalls in full flow.
---------------------- 

Like this article? Macaroni Kid South Birmingham is a free weekly e-newsletter and website focused on fun family events and things to do with kids in the South Birmingham region. We gather together all kinds of local family events and activities each week, and add useful information about classes, family-focused businesses, book and product reviews, recipes, crafts, school and camp guides and more. We proudly serve families in downtown Birmingham, Mountain Brook, Homewood, Vestavia Hills, Hoover, Pelham, the Oak Mountain and 280 area, Helena and Alabaster.
Want to be the first to know about great local events for families? Subscribe here for FREE at https://sbirmingham.macaronikid.com/subscribe