When I was in high school, I experienced a partial solar eclipse.  We didn't have special viewing glasses back then, just our pin hole projectors and our senses.  I remember it vividly.  The ambient light was weird, we noticed the shadows under the trees changing, all sorts of things.  It was one of those experiences I knew I would never forget.  So, when the opportunity came up to travel a short distance to experience a total solar eclipse, I was already on board.  It took the hubs a little convincing, but he was game.  Of course, the kids will sign up for any opportunity to sleep in a hotel!  We soon settled on the closest place for totality, Murfreesboro, TN, and made plans to join millions of other Americans watching the Great American Solar Eclipse on August 21st, 2017.
On the way, we decided to stop in Huntsville and visit the U.S. Space & Rocket Center.  The short, overnight trip would be our own personal space odyssey!  Here's how it went.
U.S. Space & Rocket Center, Huntsville, Al
What better way to get everyone revved up for the big celestial event than a visit to the Space and Rocket Center!  Driving into the area, the first thing you see is a giant rocket on the horizon, so the guys worked themselves into a frenzy of anticipation before we even got the van parked.  I thought Evan was going to lose his mind, he was so excited.
Walking around the grounds and inside the museum, there were lots of dramatic "whoa"s, "wow"s and "epic"s coming from our direction!  The sheer size of the vehicles on display is enough to wow anybody. Just check out how tiny Evan looks standing underneath The Saturn V rocket on display.  And not just space stuff, but military vehicles, weapons and surveillance gear too (spy stuff??! Commence young kid freak out).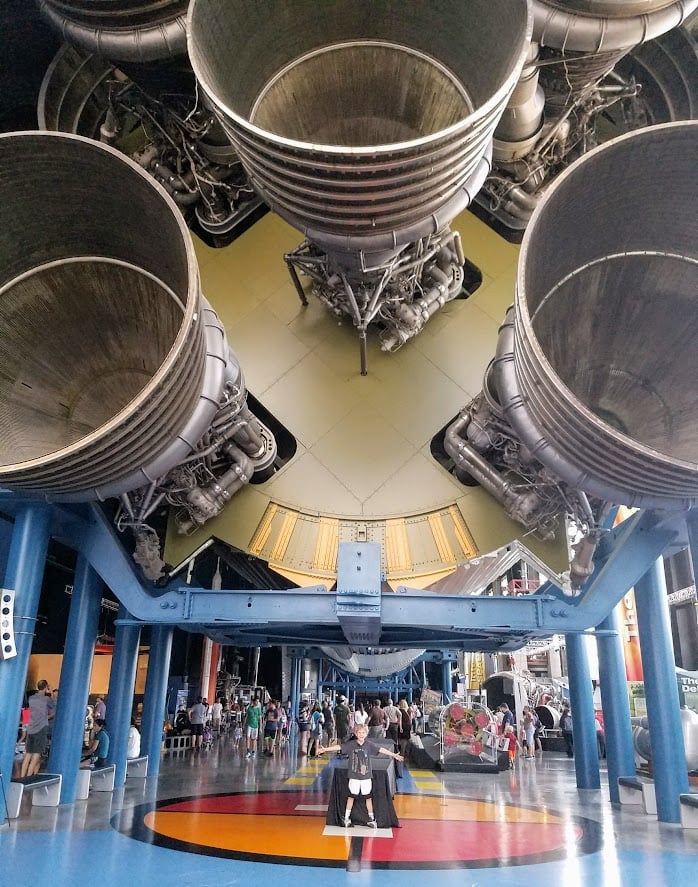 See teency Evan under the Saturn V?!  I couldn't even fit its whole rear end in the picture!

We got a timely, added bonus while we there, as there is a temporary exhibit on the science of rock n' roll, going on right now.  Our little rocker wannabes were in heaven, banging on drums and strumming guitars, to their hearts content.  If you want to see this exhibit, you need to go soon!  It closes Sept. 4th, 2017.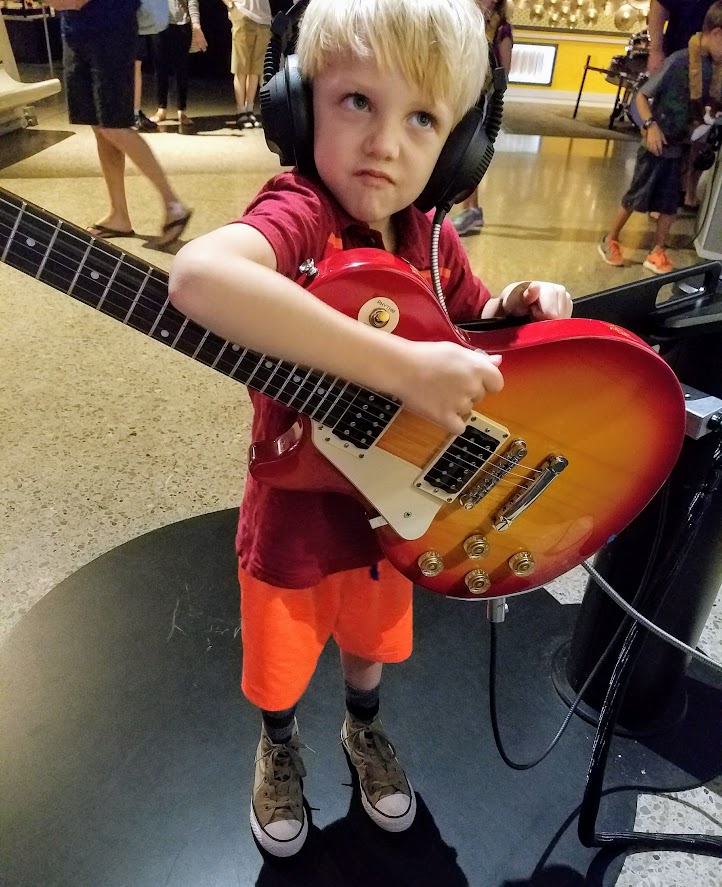 ​
So many fun, interactive exhibits in the Science of Rock N' Roll.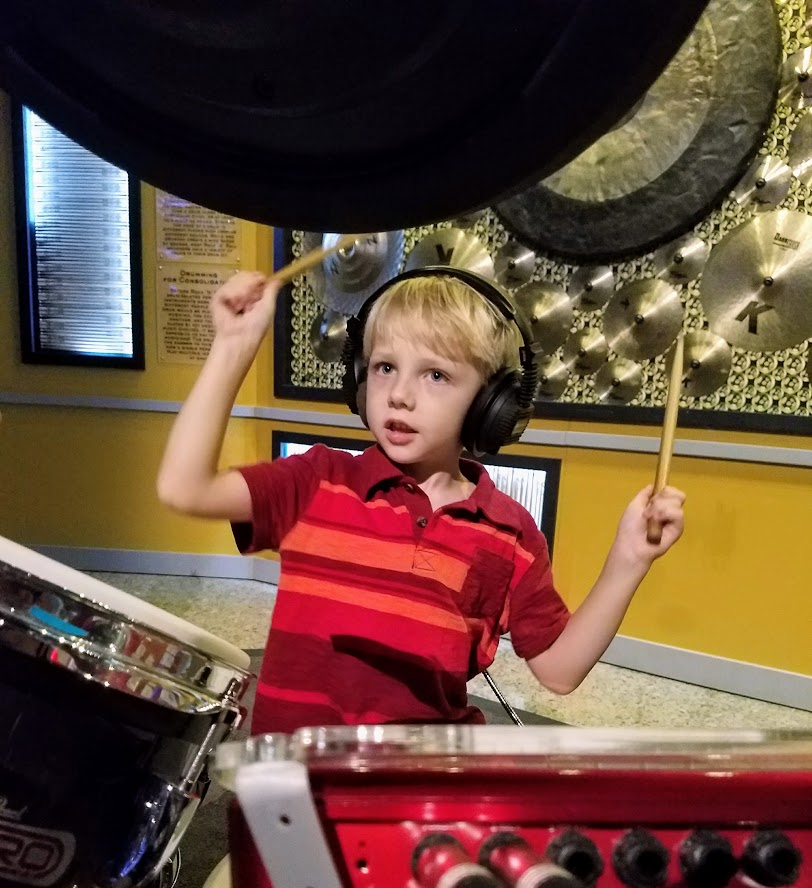 ​
Now THIS is the kind of drum set I could live with at home.  Only Cole can hear what he is playing!​
While we were there, we also took in an IMAX movie (Journey to Space was one of several options available), took a ride on a flight simulator with a silly space police and alien bad guy theme, pressed all the buttons and toggled all the levers.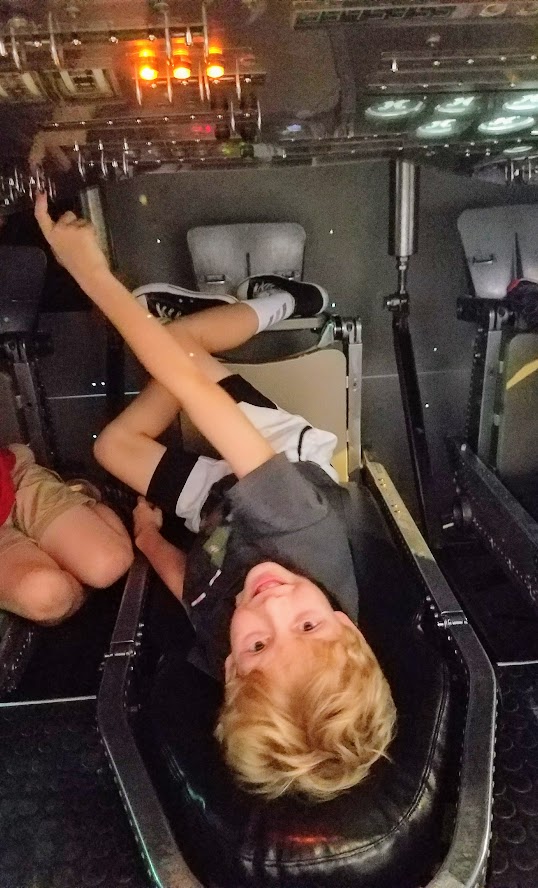 ​
I think I took a dozen pictures before I finally got Evan looking at the camera.  This interactive exhibit, where kids can climb into a space capsule, has so many buttons and levers...little guy's DREAM.
My favorite display was outside the center where they have the relative size and distances of all the planets in the solar system. The guys were blown away by how far we had to walk to get to Pluto (which was way out past the end of the parking lot), and by then you couldn't even see the Sun any more.  This really gave them an idea of how big just our solar system is, and how much bigger the universe must be!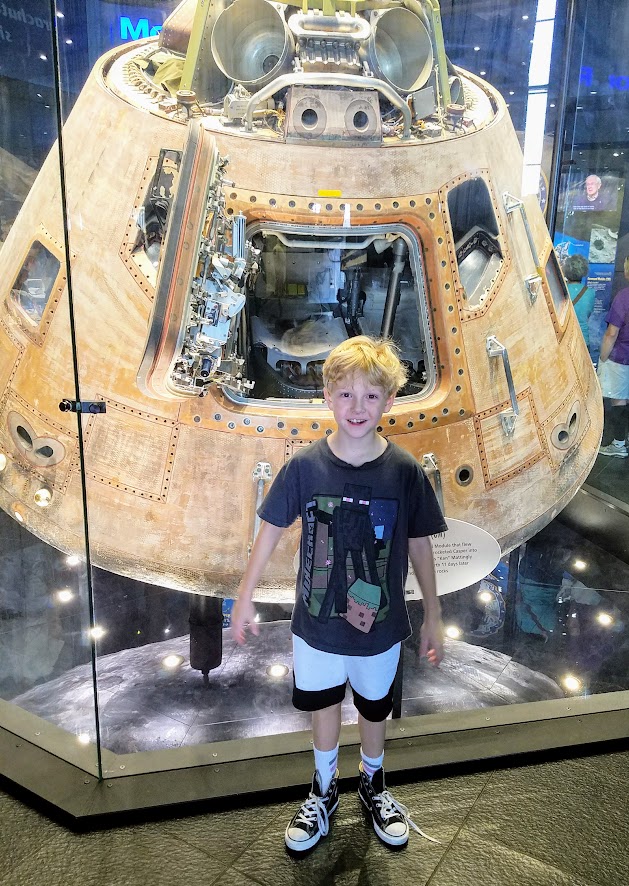 Evan in front of the space capsule that carried American Astronauts to the moon and back!  Nearby there is an authentic moon rock on display.  Very cool.
Tips for visiting:  Arrive early and plan for a long day if you want to see everything.  We spent five hours there and still hadn't seen everything there was to see.  Bring a stroller or carrier if you need one.  The grounds are huge!  Great for wearing out toddlers and preschoolers, but if you want to stay longer, they are going to need a break.
Great American Solar Eclipse Day!
Arriving in Murfreesboro, Tn, on the eve of the eclipse, we still didn't know where we were going to go, nor did we have eclipse glasses!  Lucky for us, The Discovery Center at Murfree Spring, a local children's museum still had some left and were giving them out with admission!  At only $7-8 per person, that was a great deal!
We also knew there was no way the kids were going to sit out in the hot sun for hours on end watching the eclipse.  So the Discovery Center was perfect!  We could play in the air conditioning, participate in event related activities and go outside to check on the moon's progress whenever we liked.  They even have a fantastic wetlands boardwalk where we could see what happened with the birds and insects during totality!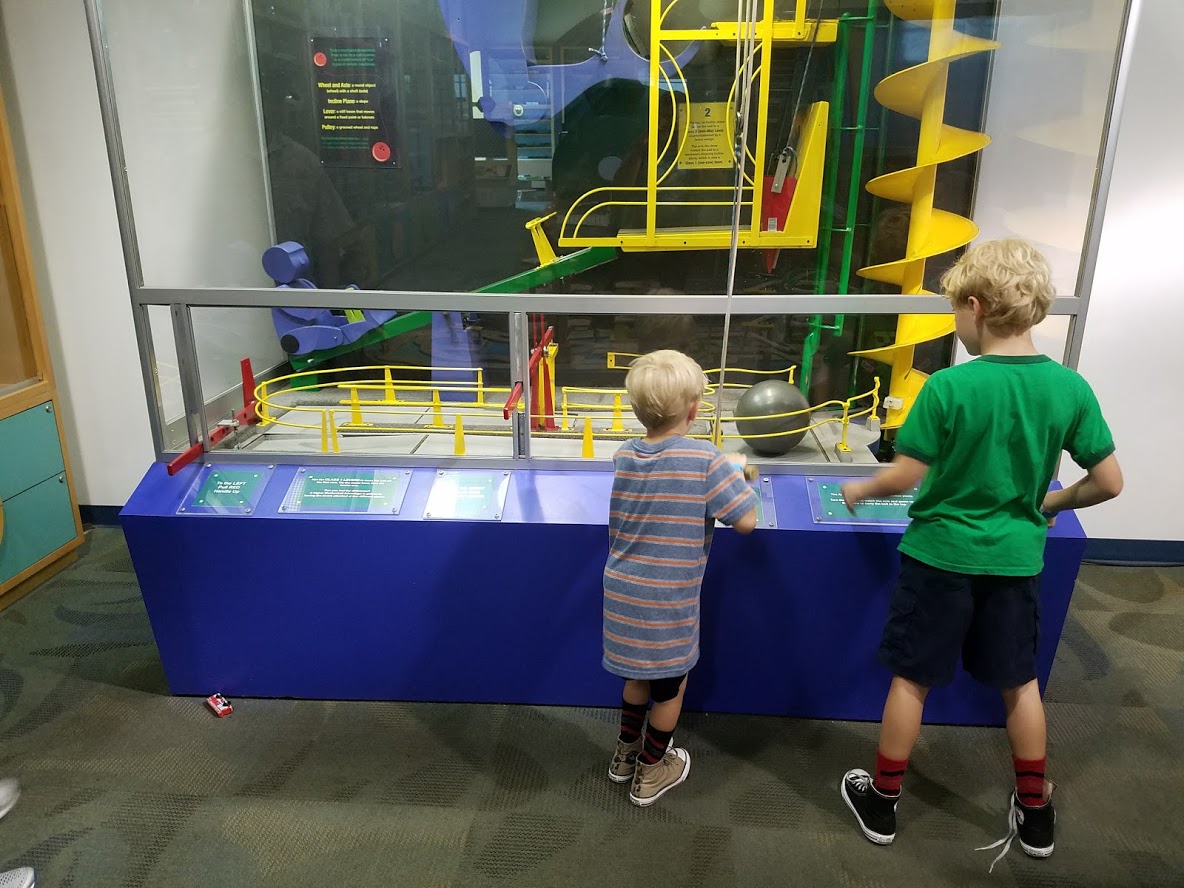 The guys love anything with moving parts.  In this activity, they had to work together turning wheels and pushing levers to maneuver a bowling ball around the space.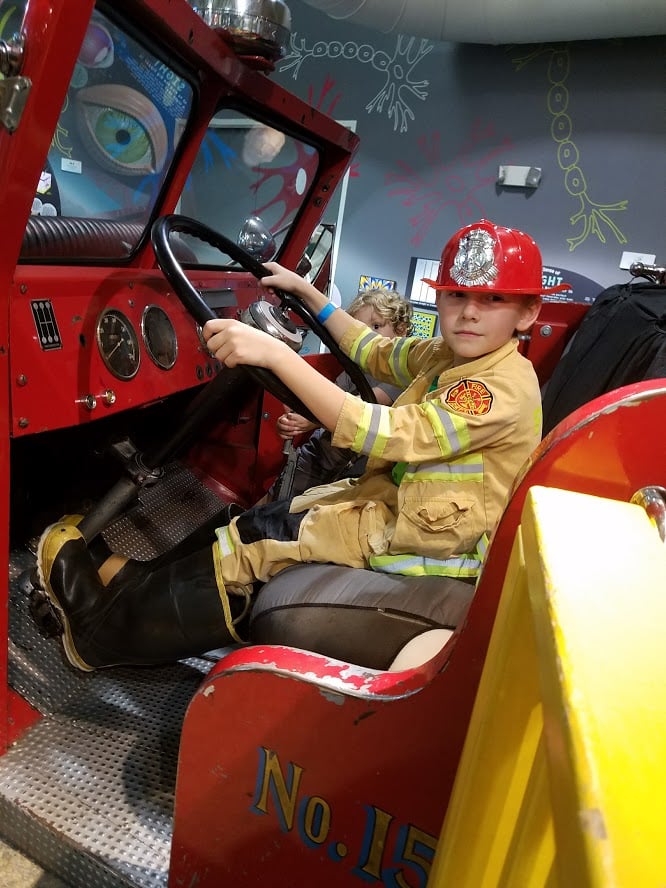 Who doesn't love dress up and pretend!?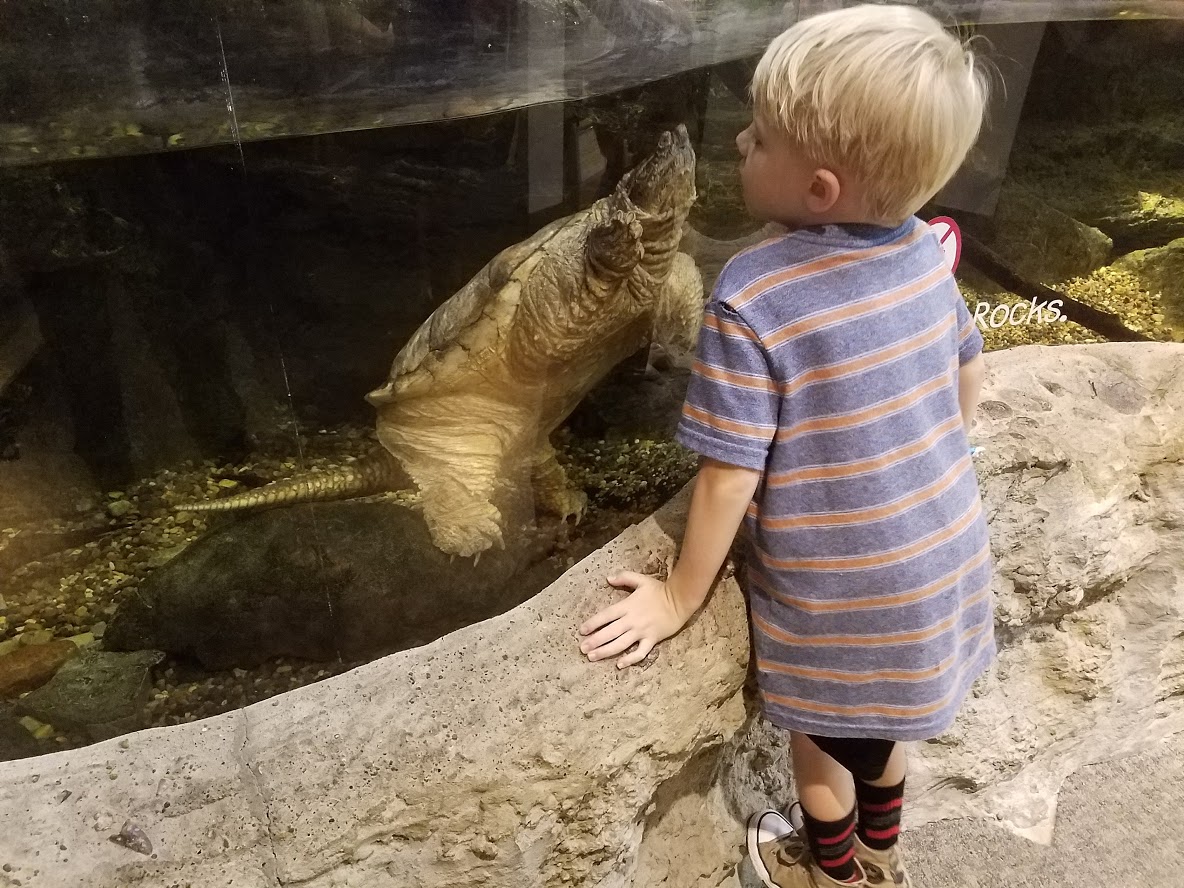 Cole has a face to face encounter with a live snapping turtle.  Another visitor was nice enough to point another one out to us from the wetlands boardwalk.
​
The guys making UV color-changing bracelets to celebrate Eclipse Day.  
There were so many fun things to see and do at The Discovery Center.  I think our favorite thing was seeing the staff conduct a science experiment out on the patio.  They blew a trash can about thirty feet up into the air by exploding a soda bottle with liquid nitrogen!  The boys loved the current temporary exhibit Big League Fun, on baseball too.  They each got to hit baseballs off a tee and pitch baseballs...INDOORS!! Of course they loved it!
The Great American Solar Eclipse!
When the time drew near, we made our way out to the play ground near the entrance to the wetlands board walk.  There were several families already there, so while the boys played and made new friends, so did we.  Everyone was there for the same special reason, so the conversation came easy.
When the time came, the four of us, as well as a couple of our new friends (a local mom with her son), headed out onto the boardwalk.  The light was strange and we were all fascinated by the shadows under the trees created by thousands of pinhole projectors in the leaves.  As the light grew dimmer, robins began to chirp evening chirps and a flock of starlings came in to roost on a nearby radio tower.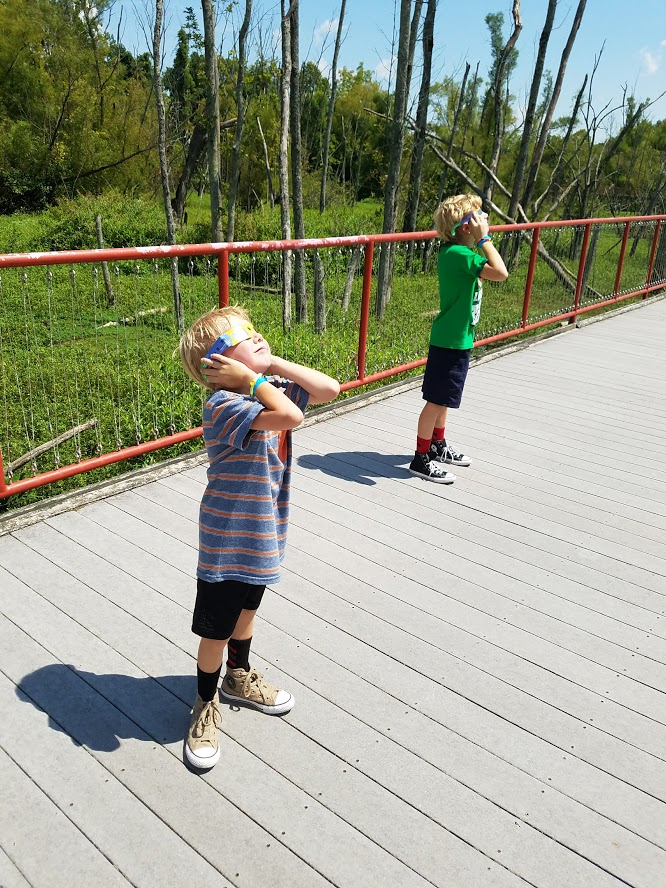 The wetlands boardwalk provided us with a wonderful venue to observe nature during the eclipse!
Finally, we all sat down in a row to watch the final moments until totality and then take our glasses off for one short minute. Everyone was exclaiming their wonderment and shouting out "Bailey's Beads!" and then, "the Diamond Ring!"  And when the final blob of light disappeared, we took off our glasses and you could hear everyone nearby cheering and gasping.  We were all amazed at how powerful the sunlight was until the moon completely blocked it and it was as dark as dusk.  Seeing what looked like a black hole where the sun should be was the weirdest thing ever.  It was easy to understand why ancient people must have been so terrified to experience a total eclipse, not understanding what was happening!
Sooner than we were ready, the sun reappeared and we sat there stunned, looking around us.  Shimmery shapes suddenly appeared on the boardwalk and it took me a moment to realize what we were seeing. I shouted "SHADOW SNAKES!!"  Evan squealed with delight!  One of the youtube videos we highlighted in a previous article about the eclipse talked about shadow snakes and how the conditions have to be just right to see them.  Apparently, some chasers will see many eclipses and never see shadow snakes!  We were so LUCKY!  
Even Mike, who is normally a pretty reserved guy, especially when compared to my in-your-face enthusiasm about everything, was clearly moved by the experience (I tried not to be too smug about having to convince him to go).  It was truly a family bonding experience like no other, and even enveloped everyone around us.  After it was over, we had a hard time saying goodbye to our new friends, wishing that we lived closer.
After we got home and turned on the news, it turned out we weren't the only ones that felt this way.  Lots of people felt bonded to the people around them as they watched the eclipse.  For a brief moment, in this tumultuous time we live in, there was no such thing as strangers.  All across the United States, people felt, *gasp* united!  Pretty stinkin' cool if you ask me.
​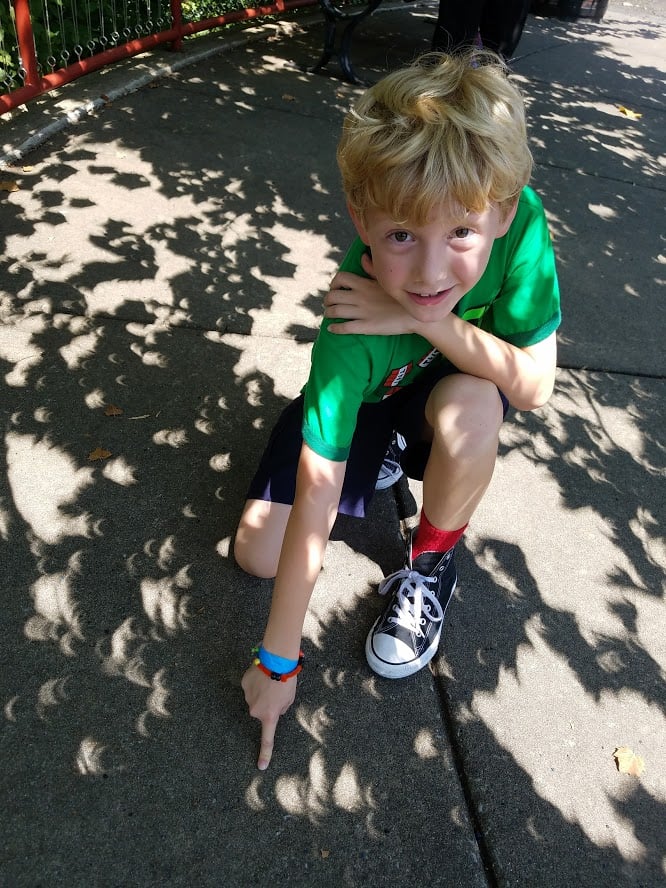 Evan is pointing out the images of the sun in eclipse projected by thousands of tiny "pin-hole" projectors in the leaves above.  This is what I noticed during my first partial eclipse in high school, something I will never forget.
Disclosure:  Thank you very much to the U.S. Space & Rocket Center for hosting my family in exchange for this feature.
---------------------- 

Like this article? Macaroni Kid South Birmingham is a free weekly newsletter and website focused on fun family events and information in the South Birmingham region. We gather together all kinds of local family events and activities each week, and add useful information about classes, family-focused businesses, book and product reviews, recipes, crafts, school and camp guides and more. We proudly serve families in downtown Birmingham, Mountain Brook, Homewood, Vestavia Hills, Hoover, Pelham, Oak Mountain area, Helena and Alabaster.  Sign up for our newsletter and never miss another awesome event again! Subscribe here for FREE at https://sbirmingham.macaronikid.com/subscribe