The Princess Bride is my number one favorite movie of all time and I have never experienced it on the big screen.  So, when I saw it was a part of the 2017 summer film series at The Alabama Theatre, I was STOKED!  I knew I had to take the guys to see it and experience an historic Birmingham landmark at the same time.
​
Evan in front of the iconic Alabama Theatre sign.
Both Evan and Cole have already seen The Princess Bride, but neither remembered, and just like the little boy in the movie, they were both skeptical, given the title of the movie.  Evan, my older guy, was pretty easy to convince though.  Pirates, sword fights, magic, etc., and he became excited. Cole, however, in typical Cole fashion, remained stubborn.  We dragged him out with us anyway.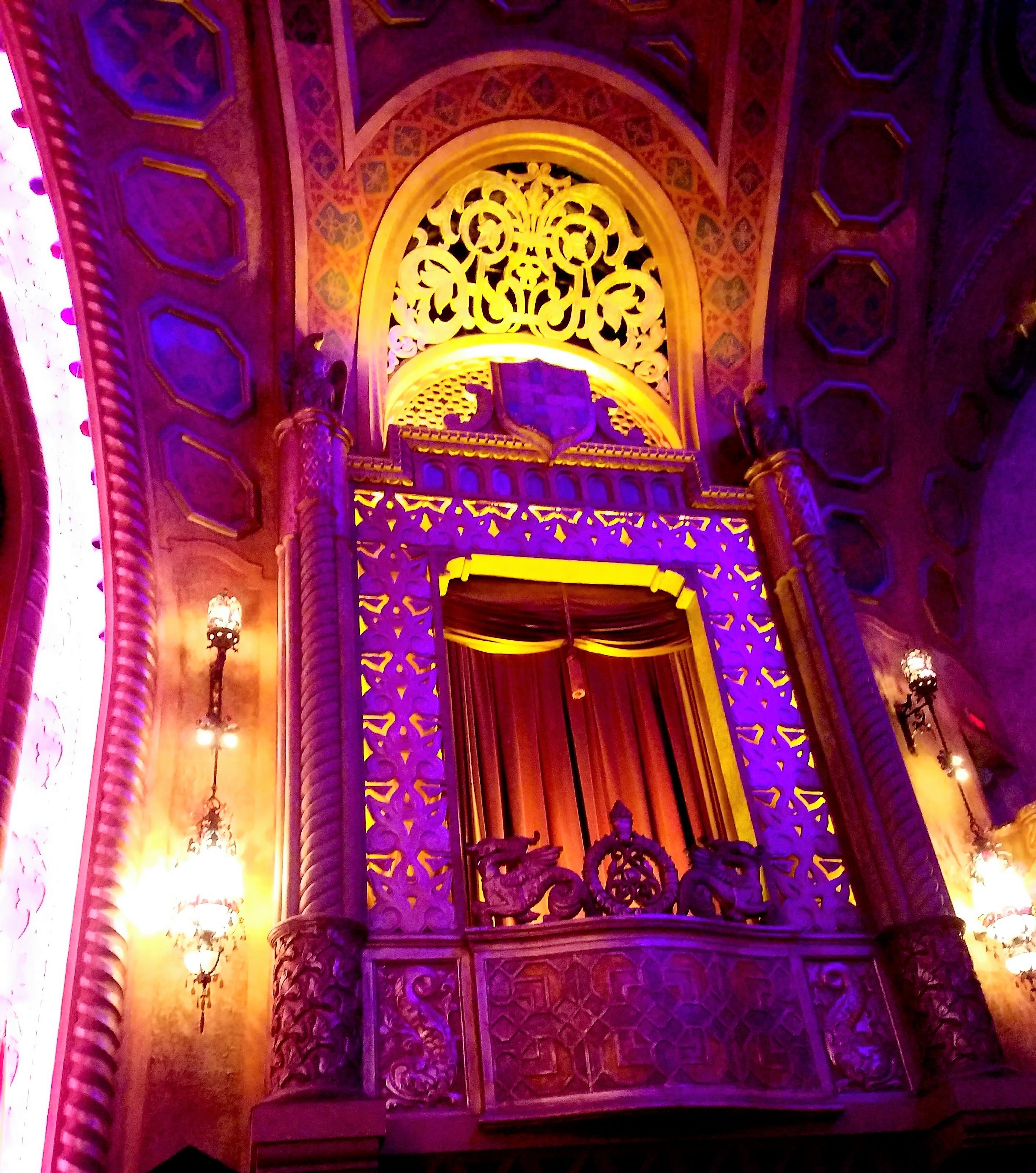 ​
The theatre was filled with ornate decor like around this luxury box seating area.
Walking into the theatre, built in 1927 and restored to its original grandeur in 1988, is like walking back in time.  The kids were awed by the theatre's luxurious and unique decor.  And even though we arrived a bit late, we got comfy, front row seats to see the movie. Unlike contemporary movie theatres, sitting in the front row is not break neck, thank goodness!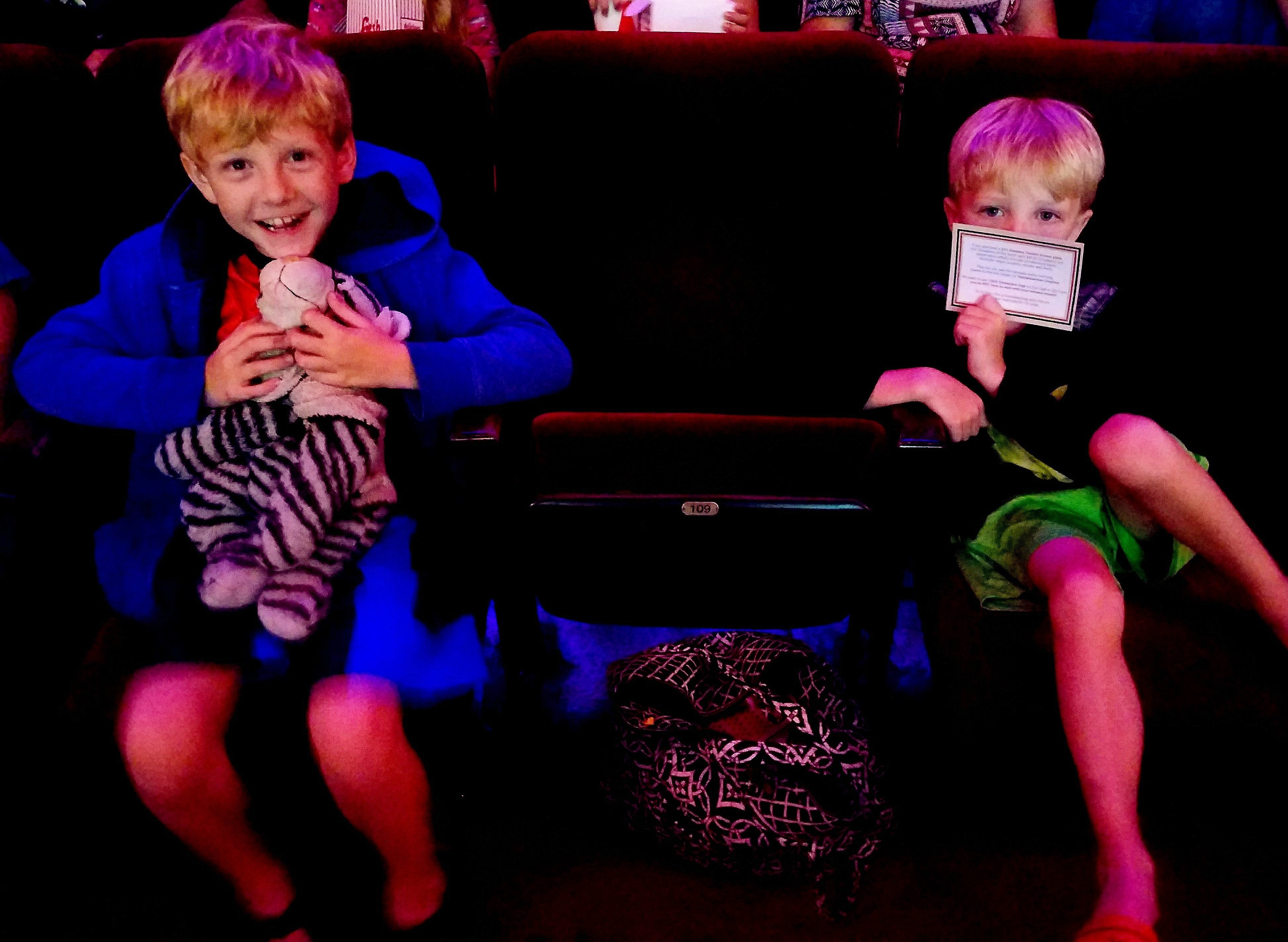 ​
Front row, velvety seats!  One Mac Kid always ready for the camera.  One who has to be in the mood.
Since the theatre was originally built for showing silent films, there is also the Mighty Wurlitzer organ, an essential part of the Alabama Theatre experience.  So how fun is it, that before each summer film showing, there is a singalong accompanied by the organ?!  The guys and I loved it!  We also were treated to a Warner Brothers cartoon.  I explained to the kids that this was the kind of cartoon I watched every Saturday morning back in my day so very very long ago.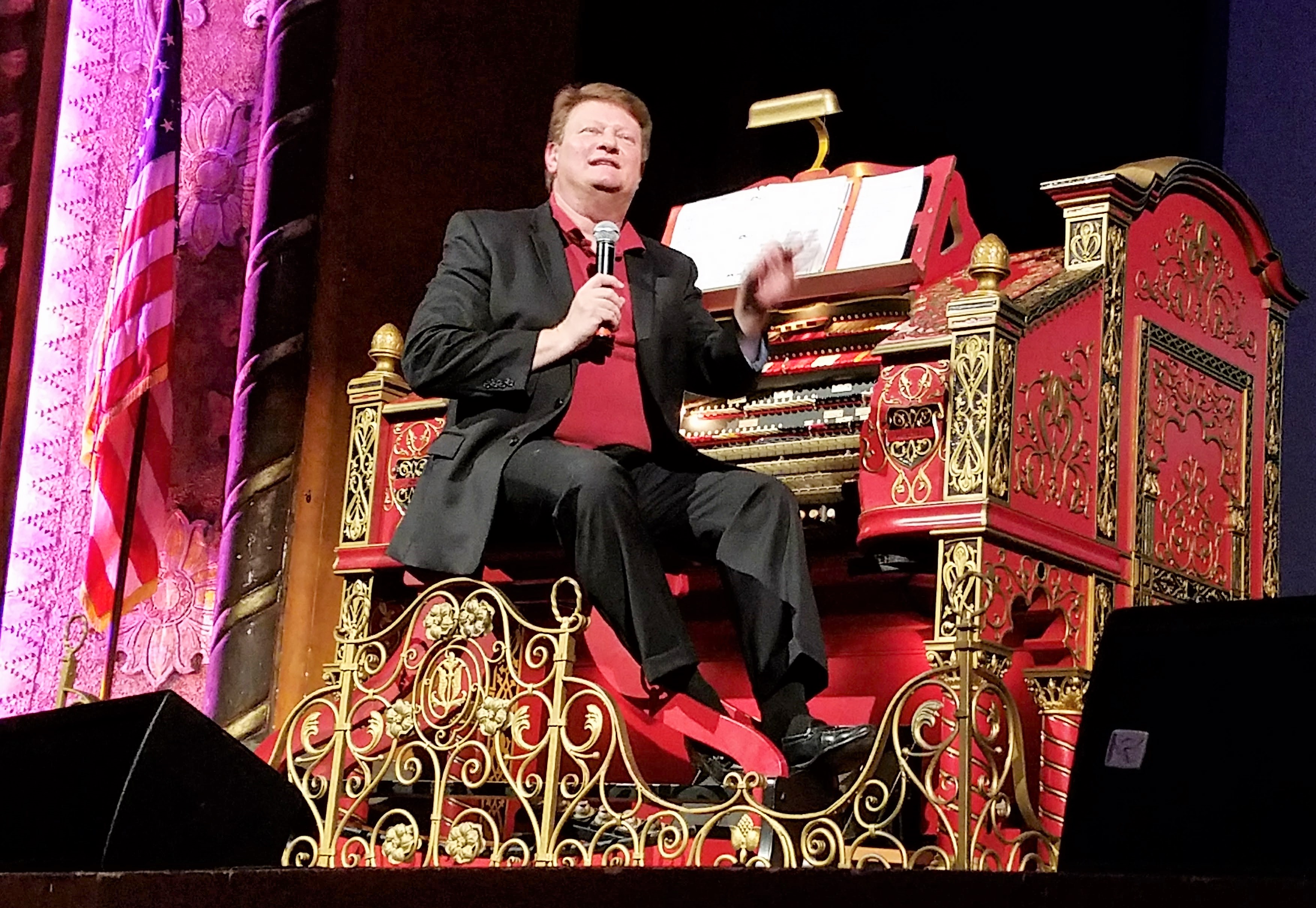 ​
Our wonderful host and organist for the evening, Mr. Gary W. Jones.  The kids loved how the organ could go up and down into the stage to be hidden from view.
The excited audience was full of families with children.  Evan made friends with a 5th grade girl sitting next to him, in his true extrovert fashion, while Cole snuggled up with me.
Finally, the movie.  I think I've probably seen The Princess Bride forty times.  But never in the front row in front of a giant movie screen!  Oh my gosh y'all, it was soooooo *awesome* !!! I couldn't believe how sharp the picture was for an 80's film too. Experiencing it with about 2500 other Princess Bride fans was pretty hilarious too, with the entire audience reciting "Alo, my name is Inigo Montoya.  You kill my father.  Prepare to die."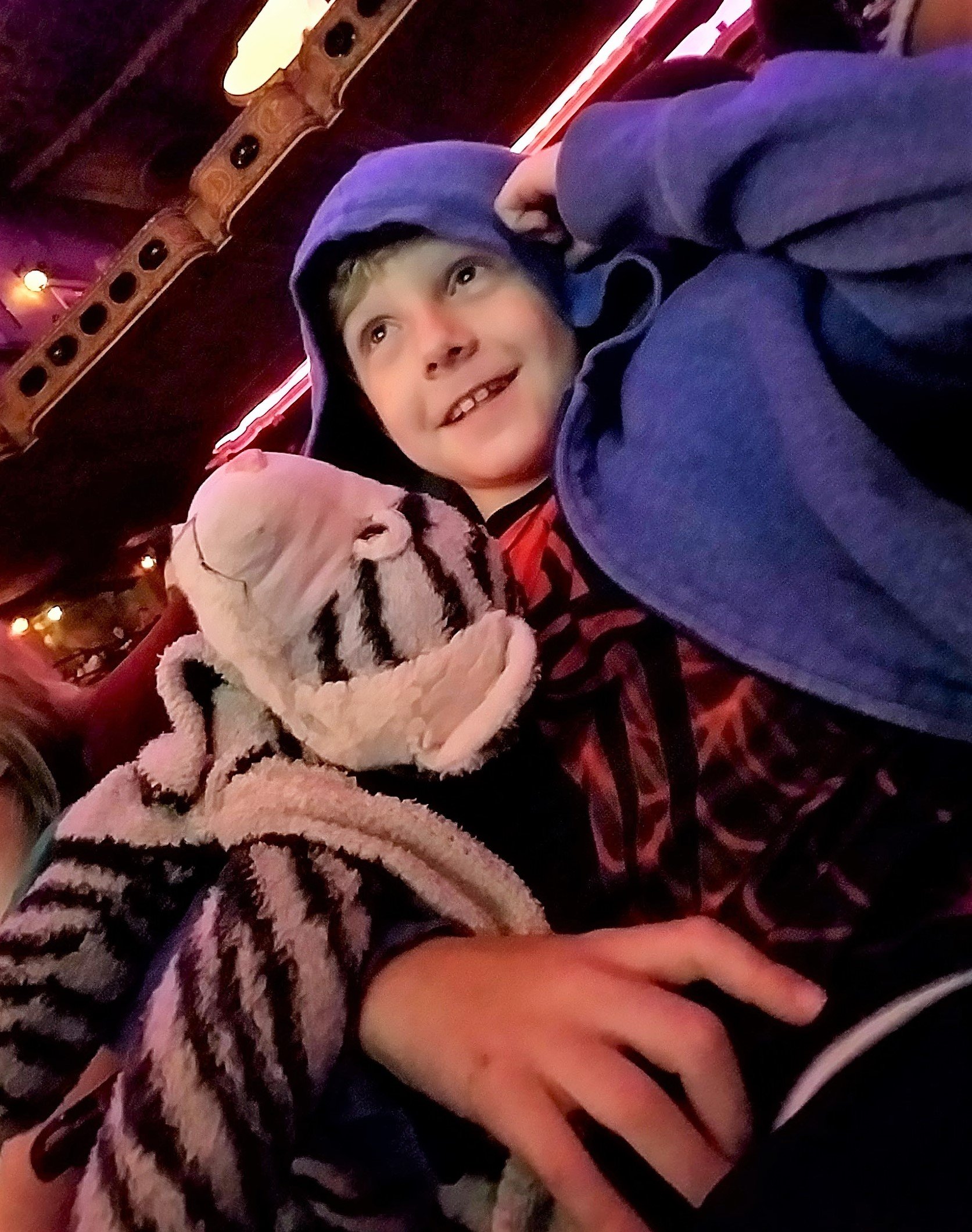 Comfy, friday night fun cuddled up with your best stuffie pal.
By the end, even Mr. Homebody Cole admitted, he was glad he came.  And for only $8/person, you can't beat the price for an evening movie!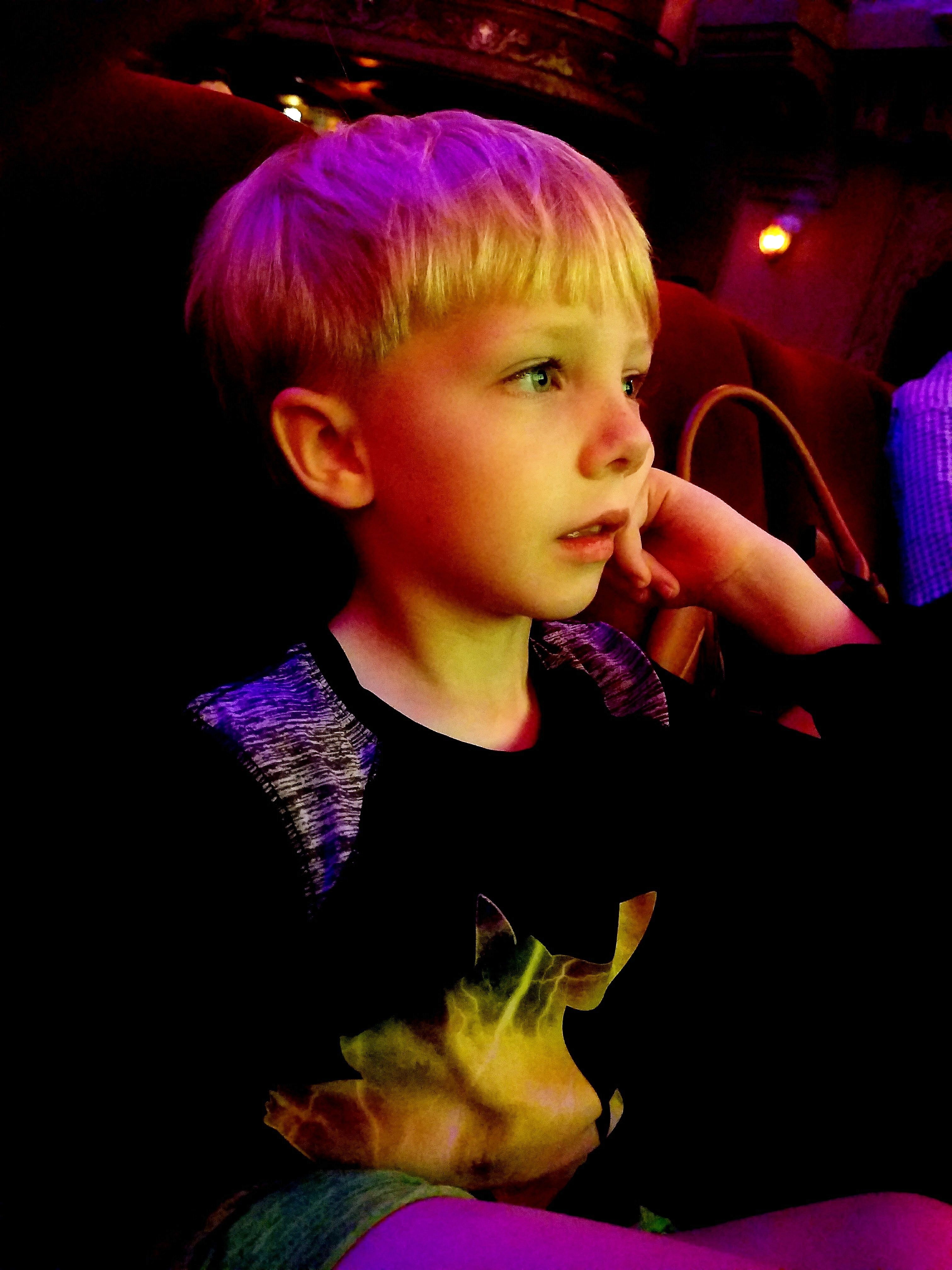 ​
I never did capture a smile from this guy, but they were there.  Love the wonder in his eyes here.
Over this past summer, the series included other classic titles like Gone With the Wind, Blazing Saddles, Grease, Ghostbusters and the Wizard of Oz.  They also have a separate daytime series for kids, during the summer, that costs only $5 for adults and $3 for kids.  Movies in this series included The Little Mermaid, Beauty and the Beast, Finding Nemo and Charlie and the Chocolate Factory.  Be sure to check the Macaroni Kid South Birmingham calendar for both these series next summer!
The Alabama Theatre also hosts concerts and other live events!  Coming up soon is Lyle Lovett and His Large Band, Peppa Pig Live! and Shopkins Live!  
Parking tips - Bring cash for parking.  There was a lot just down the street with parking for only $2, but that may increase for larger events.  If you prefer covered parking or don't have cash, you can park in the McWane Center garage right around the corner (we paid $8), but bring an umbrella stroller or baby carrier for the short walk if you need these things.
Timing tips - We got there fairly late for the movie and still got great seats, but if you are picky, get there early.  Also, we didn't have time to hit the concessions, for typical movie fare.  But, they also have "special" drinks for adults!  Gotta try that next time we go!
Disclosure:  Thank you to The Alabama Theatre for hosting my family in exchange for this honest review.
---------------------- 
Like this article? Macaroni Kid South Birmingham is a free weekly newsletter and website focused on fun family events and information in the South Birmingham region. We gather together all kinds of local family events and activities each week, and add useful information about classes, family-focused businesses, book and product reviews, recipes, crafts, school and camp guides and more. We proudly serve families in downtown Birmingham, Mountain Brook, Homewood, Vestavia Hills, Hoover, Pelham, Oak Mountain area, Helena and Alabaster.  Sign up for our newsletter and never miss another awesome event again! Subscribe here for FREE at https://sbirmingham.macaronikid.com/subscribe